William Louis Brent was born 26 July 1892 at 10:20 p.m. in Pensacola, the 12th child and youngest son of Francis Celestino "F.C." Brent and Mary Ella Shuttleworth.

When William was a baby, he acquired the nickname "Tuff." His uncle, Danny Gonzalez Brent, said, "That's a tough little baby!" Eventually the nickname changed to "Tuff." Some of his relatives also called him "Willie." According to his daughter, Tommie Brent, her father and his brother Robert first went to the Pensacola Classical School. This school opened in the early 1900s and was run by Henry Clay Armstrong who, among other accomplishments, had served as a U.S. Consul in Grenoble, France, and as Secretary of the American Legation in Madrid. Students at the school got a thorough grounding in the classics. He then went to a school she referred to as "Princeton Prep," a college preparatory school for Princeton University. William did not go on to Princeton. Instead he went to the Eastman Business College in Poughkeepsie, New York, where he specialized in traffic control. In 1916 he was listed in the Pensacola City directory as a bank teller, working at the National Bank of Commerce.

William enrolled at the Naval Station in New Orleans, Louisiana, on May 14, 1917 during World War I. He was just over 24 years old when he went to New Orleans and was waiting to be commissioned as an officer. While he was waiting for his commission, the Navy put him and several others on a yacht for six weeks of training. Instead of going in as a commissioned officer, he decided to go in as a seaman so he could stay with the friends he had been training with on the yacht. On board the yacht was a chef from the Waldorf Hotel.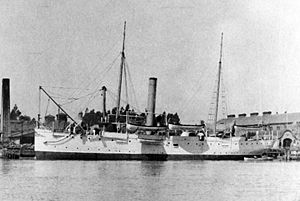 His rate was Chief Gunners Mate. Two months later, on July 25th, he served aboard the USS Wheeling, a Navy gunboat built in 1897 which served as a convoy escort during World War I. He advanced from Chief Gunners Mate to Seaman to Yeoman 3 Class.

William decided he wanted to be a yeoman because yeoman were assigned typing duties. So he taught himself to type and became a yeoman. This job him a room with a desk. He put a mattress on top of the desk because he couldn't sleep well in a hammock.

The USS Wheeling, a Navy gunboat, was in the waters off Vera Cruz, Mexico, in late 1916. In the spring of 1917, when the United States entered the War, the Wheeling was sent to New Orleans to be prepared for overseas duty. For the next several months the Wheeling served as a convoy escort in the area of the Azores, Gibraltar, North Africa and Italy. After the war, she headed back to New Orleans where she was decomissioned. William was placed on inactive duty in February 1919 and was discharged from the Navy on May 13, 1921.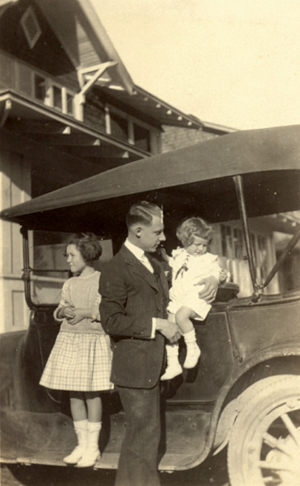 In 1921, William eloped. He met Alice Harriet Wall when he went with a friend named Oscar, from his Princeton Prep days, to a dance in Hopkinsville, Kentucky, where Oscar lived. Alice lived there too. Alice and William went down to Clarksville, Tennessee, the closest big city to Hopkinsville and just over the state line in Tennessee. The license was signed on May 20th in Clarksville and the marriage ceremony was performed the same day. Another marriage certificate exists in Christian County, Kentucky. The marriage date is June 14, 1921, and a note on the certificate says that they were previously married on May 20th in Clarksville, Tennessee. So they must have come back to Hopkinsville and either married a second time or they just had the marriage recorded in Kentucky.

Alice and William moved to Louiville, Kentucky, where they lived for a few years. Willie worked as a traffic manager for the L&M Railroad. Before their daughter Tommie was born in 1925, they moved to Orange, Texas. At that time, Orange had a population of about three or four thousand and dirt streets. When her time grew near, Alice wanted to give birth in a good hospital, so she went to New Orleans. After two weeks, with Tommie not arriving, William went back to Orange and Alice's mother came down to New Orleans. A few years after Tommie's birth, her parents divorced.

For about twenty years, William lived in a rented house at 904 5th St. in Orange. The house is gone now. In Orange, William worked as a traffic manager for his brother-in-law, Rufus Manley who had started a creosoting company.

William died of a stroke or heart attack on January 30, 1977, and is buried in St. Mary's Cemetery in Orange, Texas.



Related Links:
Page from the Brent Bible showing William's birth at 10:20 p.m.
Bible record of baptism of William Louis Brent
William Louis Brent's WWI service card
Gravestone of William Louis Brent


Photos of William Louis Brent
William Louis Brent as a toddler
Young William
Young William dressed in his best
Portrait of William Louis Brent as a young boy
William and his brother Robert Brent at Brentwood, 1897
William Brent at Brentwood
William Brent, Robert Brent, Rufus Manley and Daniel Gonzalez Brent in New Orleans, 1906
William Louis Brent, Robert Brent and their Uncle Danny Brent
William Louis Brent with members of his football team
William Louis Brent in uniform, World War I
William in front of the Warren's house in Houston



---

The photo of the USS Wheelingabove was taken at Mare Island in San Francisco in 1897, the year she was built. Photo and information from Wikipedia, http://en.wikipedia.org/wiki/USS_Wheeling_%28PG-14%29. Additional information can be found at the Naval Warfare blog at http://navalwarfare.blogspot.com/2009_06_01_archive.html.

The photo of William with the two unidentified young girls next to the car has no date.


---