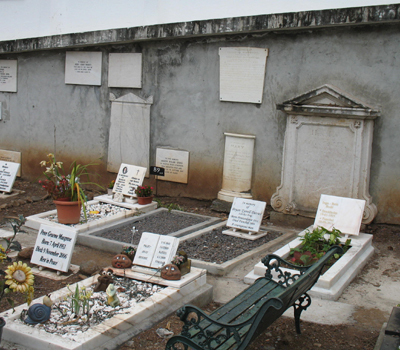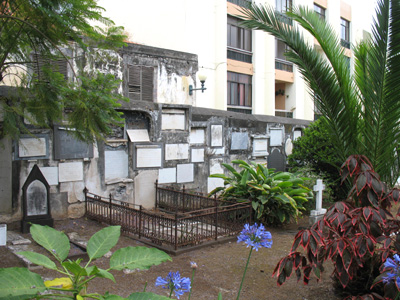 Joseph Dundas Miller, 1792-1847, son of William Miller and Mary Spurstow of Liverpool was buried in the British (or English) Cemetery in Funchal, located on the Rua da Carreira, just a short ways from the English Church. When Joseph was buried in 1847 the Rua da Carreira did not exist and he was buried in the area where the road is now.

In 1890 his bones, along with the bones of others marked with tombstones, were interred in one of the many walls in the cemetery and his tombstone was hung on the wall, as were all the others who were reinterred. Those in unmarked graves were buried together in a mass grave with a monument marking the spot. Although the story handed down in the family was that there was a grave but no gravestone, the story was wrong.

His tombstone, seen at top left in the center of the photo, right behind a black marker, is near the bottom of the wall and stained by dirt. It appears to be made of marble and is in excellent condition considering its age.

There are several sections to the cemetery and each section is surrounded by walls. These walls are covered with tombstones. From the top photo it would appear that the landscaping is very barren, but most of the cemetery is like a garden, with numerous trees, shrubs and flowers.