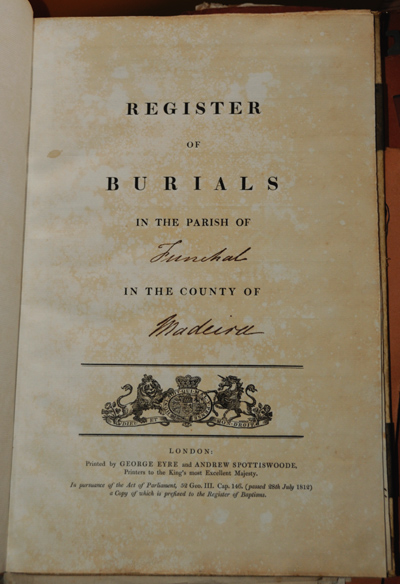 Joseph Dundas Miller, 1792-1847, son of William Miller and Mary Spurstow of Liverpool was buried in the British (or English) Cemetery in Funchal, located on the Rua da Carreira, just a short ways from the English Church. The record of his burial can be found in the Burial Register of Holy Trinity Church, known as the English Church, in Funchal.

The burial register was one of the many parish registers recording births, deaths and burials, for the church. The church opened in 1822 and presumably the registers go back to that date. The registers are in a small room in the upstairs part of the church and are in remarkably good condition considering their age and the tropical climate.

The entry for Joseph Miller, No.239, page 30, gives his place of abode as Funchal, Late of Bootle near Liverpool. He was buried 31 October 1847 and was fifty-five years old. The burial was presided over by Rev. R. T. Lowe, the British Chaplain. Joseph was born in Liverpool but he and his family were living in Bootle, in the port area of Liverpool.