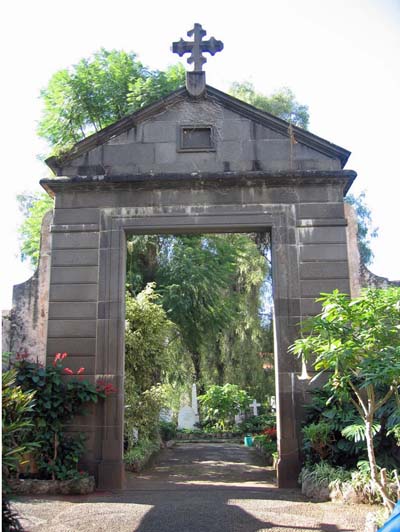 Entrance to the British Cemetery
When Joseph Dundas Miller died in 1848 he was buried in Funchal, on the island of Madeira. Joseph was a shipping merchant and spent time in both Brazil and England. Madeira was probably one of the places that his ships stopped at for provisions and water on their voyages to and from Brazil. Joseph was buried in Funchal in the British Cemetery. His burial is recorded in the Burial Register at the English Church in Funchal.

Back in the 1700s there was a rule that no one could be buried in Madeira unless they were Roman Catholic, Madeira being a Catholic country. The British and other foreigners who were unfortunate enough to die in Madeira were taken to Ponta do Garajau, a spot high on cliffs above the sea where the corpse could be thrown over and consigned to the deep. About 1770 this gruesome practice came to an end with the creation of the British Cemetery located at the end of the Rua da Carreira. In the 1800s an English church was constructed as well, Holy Trinity Church.