Jonathan Whitted was born 6 February 1801 in Orange County, North Carolina, to Mary Whitted and an unknown father. Mary, the daughter of Thomas Whitted, Esq. of Orange County. A few months later, in December 1801, Mary married Thomas Pleasants. The court records from the time state that Mary Whithed was the mother but the father was unnamed.

In 1806, Jonathan was bound by court order to Isaac Sugars (Shugart) "until he arrives to lawful age to learn the art and mystery of a farmer". Jonathan was four years old at this time. It is thought that Isaac might have been his father. Jonathan named his first child Isaac, but this might have been because of his having been raised by Isaac. Jonathan was not named in either Thomas Pleasantsí will nor in Maryís. He was not named in Isaac Sugarís will either. So Jonathanís paternity is, for the moment, unknown.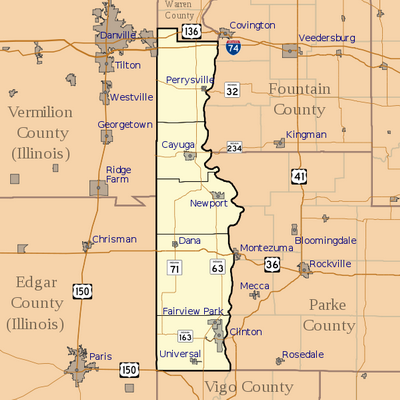 In 1821, Jonathan married Nancy Rogers Clark in Orange County, North Carolina. Her father may have been Hezekiah Clark, a farmer and neighbor of the Whitteds. Jonathan and Nancy named one of their children Hezekiah. Jonathan and Nancy had thirteen children---seven boys, four girls, and two children who died very young. In the mid 1930s the family moved to Parke County, Indiana, where Jonathan was a farmer. Nancy, died in 1857, in Ridgeport, Boone County, Iowa. Her son Elbridge was living in Boone County and she may have been visiting his family when she died. She was buried in Ridgeport, in Mineral Ridge Cemetery.

Jonathan married Mary Hunter a year later, in 1858 in Rockville, Parke County. They had no children together. Jonathan died ten years later, in 1867, in Clinton, Indiana, where his son Enoch was living with his family, and was buried in Spangler Cemetery west of Clinton on Highway 163 near the small town of Centenary. The town of Clinton can be seen on the map of Vermillion County, Indiana, above, at the southern end of Vermilliion County on the eastern side. Vermillion County's west side forms a border with Illinois. Highway 163 heads west out of Clinton to Illinois; Centenary, where Spangler Cemetery is located, is about halfway between Clinton and the Illinois border. It is not known when Mary, Jonathan's second wife, died nor where she was buried.




Related Links
The Whitted family
Court order binding Jonathan to Isaac Sugars, 1806
Marriage License and Certificate of Jonathan Whitted and Mary Hunter
Family Group Sheet for Jonathan Whitted and Nancy Rogers Clark
Spangler Cemetery, where Jonathan is buried
Children of Jonathan Whitted and Nancy Rogers Clark
Whitted burials



---
The map of Vermillion County, Indiana, is from Wikimedia Commons, released to the public domain. Jonathan's son Enoch and many Whitted descendants lived in Vermillion County and also in Vigo County, just south of Vermillion County.
---