Jonathan Whitted, 1801-1866, son of Mary Whitted, was buried in Spangler Cemetery, west of the town of Clinton in Vermillion County, Indiana. His tombstone is in Row 15 as are the tombstones of two of his young grandchildren: John Franklin Whitted, 1856-1873, and Idora Whitted, 1862-1863, both children of Enoch M. Whitted and his wife Eliza Hise.

Jonathan and his wife, Nancy Rogers Clark, moved, with six of their children, from North Carolina to Indiana, about 1834-35, settling in Parke County where several more children were born. One of their children, Elbridge, eventually moved to Boone County, Iowa. It was there that Nancy died in 1857, probably on a visit to her son's family. She is buried in Mineral Ridge Cemetery in Ridgeport, Boone County, Iowa.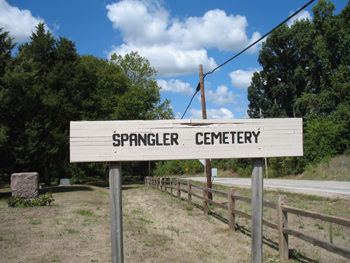 Jonathan married a second time, in 1858, to Mary Hunter. Mary is not buried with Jonathan and her date of death is unknown. She was at least thirty years younger than Jonathan and may have married after his death in 1866, although she is still Mary Whitted in the 1880 census, a widow, living with her stepson, William Clark Whitted and his wife in Clinton, Vermillion County.

Jonathan died in 1866 in Clinton Township, Vermillion County. He is buried in the old section of Spangler Cemetery which is west of the town of Clinton on State Route 163 in Centenary, nearly to Illinois. The old section is up on the river bluff, away from the main cemetery by the road. The top photo above was taken in the old section. A search on the part of the author and her sister failed to locate his headstone although a photo of it can be found at the Find A Grave website, so someone did locate it.


Related Links
The Whitted family
Jonathan Whitted, biographical sketch
Whitted burials