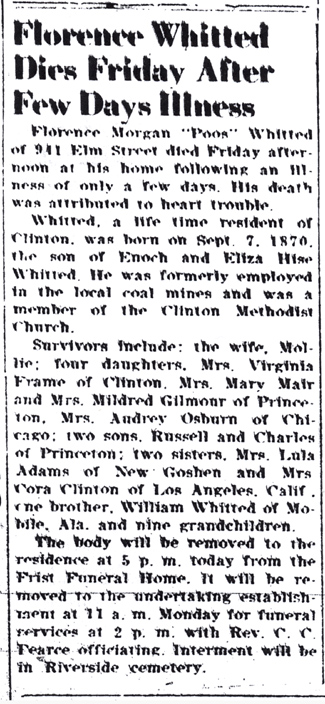 Florence Whitted Dies Friday After Few Day's Illness
Florence Morgan "Poos" Whitted of 941 Elm Street died Friday afternoon at his home following an illness of only a few days. His death was attributed to heart trouble.

Whitted, a life time resident of Clinton, was born Sept. 7, 1870, the son of Enoch and Eliza Hise Whitted. He was formerly employed in the local coal mines and was a member of the Clinton Methodist Church.

Survivors include: the wife, Mollie; four daughters, Mrs. Virginia Frame of Clinton, Mrs. Mary Mair and Mrs. Mildred Gilmour of Princeton, Mrs. Audrey Osburn of Chicago; two sons, Russell and Charles of Princeton; two sisters, Mrs. Lula Adams of New Goshen and Mrs. Cora Clinton of Los Angeles, Calif., one brother, William Whitted of Mobile, Ala. and nine grandchildren.

The body will be removed to the residence at 5 p.m. today from the Frist Funeral Home. It will be removed to the undertaking establishment at 11 a.m. Monday for funeral services at 2 p.m. with Rev. C.C. Pearce officiating. Interment will be in Riverside cemetery.