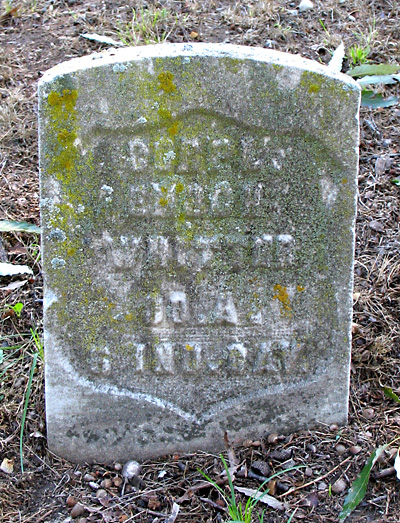 Enoch Whitted, the fourth child and third son of Jonathan Whitted and Nancy Rogers Clark, was born 11 November 1828 in Chatham County, North Carolina. He moved with his family to Parke County, Indiana, in the mid 1830s. It was there in Rockville, Parke County, the he married Elizabeth E. "Eliza" Hise on 30 October 1851. Eliza was the daughter of Solomon and Katherine Hise and was born in Parke County.

Sometime after their marriage, but before their first child was born, they moved to Vermillion County, just a few miles southwest of Rockville. They settled about four miles west of the small town of Clinton where they raised nine children.

In 1862, after his fourth child, Josephine, was born, Enoch joined Company A, 71st Indiana Infantry. According to his obituary, Enoch "was wounded in battle at Richmond and after treatment in the hospital came home, rejoinging his regiment in January 1863. In August 1863 the regiment was re-organized into the 6th Cavalry. He was with his regiment as a part of Burnside's army at the battle at Knoxville, was with Sherman in the campaign that culminated at Atlanta, then came north and was with Gen. Thomas in the campaign about Nashville which resulted in the destruction of Hood's army. He was honorably discharged from the army in June 1865." While he was away at war, Eliza managed the farm and raised the children.

In 1891 he moved into Clinton where he died from a paralytic stroke, at his home, on 7 May 1901. His burial was two days later. He lies in the family plot in Riverside Cemetery in Clinton.

Eliza was living at 652 Walnut Street in Clinton when she died on 21 September 1916. Cora, the youngest daughter, had been living at home with her mother and taking care of her for several years. The funeral was two days later and she was buried in Riverside Cemetery also.




Related Links
The Whitted family
Marriage License and Certificate of Enoch Whitted and Eliza Hise, 1851
Enoch and Eliza Whitted, family group sheet
Gravestones of Enoch and Eliza Hise Whitted
Enoch Whitted family: burials
Obituary of Enoch Whitted
Obituary of Eliza Hise Whitted
Children of Enoch Whitted and Eliza Hise



---
The photo above is the military marker for Enoch Whitted in the Riverside Cemetery in Clinton, Indiana. The stone reads: Corpl. Enoch Whitted, Co. A, 6th Ind. Cav. This stone is in addition to his gravestone marker in the family plot. Photo taken by Anne Healy Field, August 2012.
---