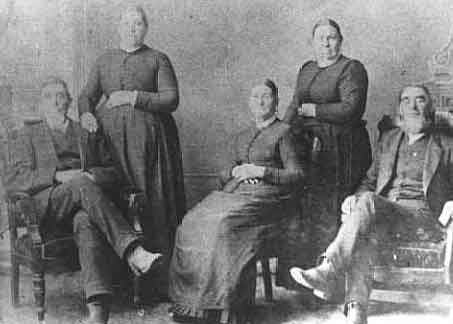 Elbridge Whitted with some of his brothers and sisters

Elbridge Mabrin Whitted was born 28 February 1824 in Chatham County, North Carolina, the second son in a family of thirteen children. His parents were Jonathan Whitted and Nancy Rogers Clark of North Carolina. By 1835 the Whitted family had moved to Parke County, Indiana. On 9 May 1846, in Rockville, Parke County, Indiana, Elbridge married Caroline E. Aldridge, daughter of Elijah and Jane Aldrige who had moved from the North Carolina & Kentucky area by 1831. Rockville was west of Indianapolis, nearly to the Illinois border.

Their first child, Nancy Jane, was born in 1848 in Parke County, Indiana, but not long after that they moved to Greencastle, Putnam County, Indiana, a little further East. By 1856 the family had moved again, this time to Ridgeport, Boone County, Iowa. Sometime around 1880 the family left Iowa and headed for Florida. Elbridge went by horseback but the rest of the family went by train. They were in Manatee County, Florida, by 1885. They settled in Oneco where Elbridge became successful as an orange grower.

Elbridge died 6 January 1899 and Caroline died a year later on 29 August 1900. They were buried at New Cemetery - now called Major Adams Cemetery - in Bradenton, Florida.