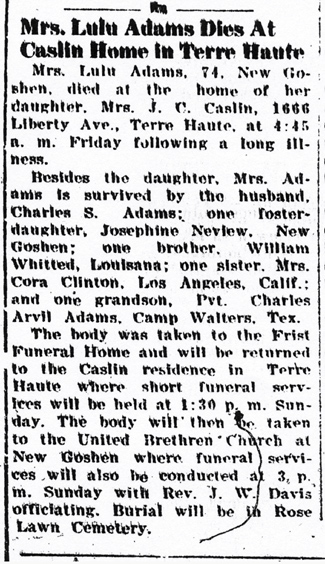 Mrs. Lulu Adams Dies At Caslin Home in Terre Haute
Mrs. Lulu Adams, 74, New Goshen, died at the home of her daughter, Mrs. J. C. Caslin, 1666 Liberty Ave., Terre Haute, at 4:45 a.m. Friday following a long illness.

Besides the daughter, Mrs. Adams is survived by the husband, Charles S. Adams, one foster daughter, Josephine Neview, New Goshen; one borther, William Whitted, Louisiana; one sister, Mrs. Cora Clinton, Los Angeles, Calif.; and one grandson, Pvt. Charles Arvil Adams, Camp Walters, Tex.

The body was taken to the Frist Funeral Home and will be returned to the Caslin residence in Terre Haute where short funeral services will be held at 1:30 p.m. Sunday. The body will then be taken to the United Brethren Church at New Goshen where funeral services will also be conducted at 3 p.m. Sunday with Rev. J. W. Davis officiating. Burial will be in Rose Lawn Cemetery.