Ysabel Pichol, the mother of my 4th great grandmother, Francesca Dauphin, has many names. The name I have known her by, Ysabel Pichol, comes from the 1784 Spanish census of Pensacola, Florida. At the time, she was sixty years old and the wife of Francisco Dauphin. I knew that she had been married before, to someone named Lafon, or Lafond, or LaForte. And that she had two daughters by this previous husband, Maria and Antonia. Another descendant and researcher thought that she had been born in the Canary Islands, but no source information was given. The spelling of her name as Pujol indicates a Spanish origin and the name supposedly comes from the Catalan area of Spain. The Canary Islanders who went to Louisiana did so starting in 1778, too late for Elizabeth Pujol.

While looking up information on the previous husband, Lafon/Lafond, I found a wealth of documents from the colonial period of the French and Spanish in Louisiana. The documents are from the Louisiana Historical Center, part of their "Louisiana Colonial Documents Digitization Project." The documents are from the French Superior Council and the Spanish Judiciary during the 1700s. The collection includes criminal and civil court cases, commercial transactions, successions, wills, and other legal documents dating back to 1714, written in French and Spanish.

What I found takes Ysabel back to the mid-1700s in Louisiana: a court case between two tutors of the children of Ysabel and her first husband. At this time period, in French Lousiana, Ysabel can be found under the name of Elizabeth Pugeau. Elizabeth, or Elisabeth, is the French equivalent of Ysabel. The case is dated 27 June 1767. Elizabeth is the widow of Jacques Langliche (spelled Langtiche and Lingliche in some documents).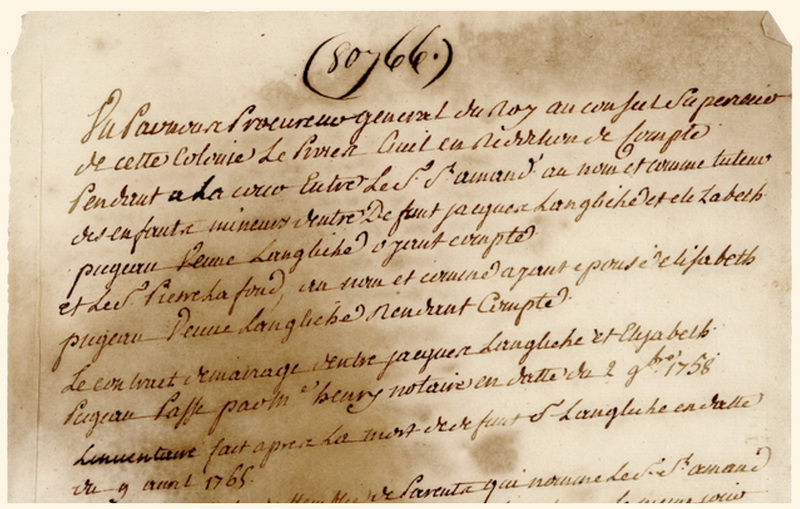 Document mentioning the marriage contract between Jacques Langliche, now deceased, and Elizabeth Pugeau in 1758 – but they were probably married before this.


Sieur Armand (also known as Sieur Daspit) is the tutor (guardian) of the minor children of Jacques and Elizabeth; Pierre Lafond is the former tutor and is also the current husband of Elizabeth Pugeau. The document, dated 2 November 1758, mentions a marriage contract between Jacques Langliche and Elizabeth Pugeau. This is probably not the date of marriage because there is a baptismal record for a Jacque Langlise, son of Jaque Langlise and Elisabeth Pigeole, born 7 October 1750 and baptized 25 December 1750. The case has to do with the succession, or estate, of Jacques Langliche, who is deceased. Pierre Lafond is named as the second husband of Elizabeth Pugeau, so, presumably, Jacques was her first husband. There is also a mention of Suzanne Langliche who married Jean Baptiste Wiltz in New Orleans, by contract dated 5 April 1770. She was the daughter of Jacques Langliche and Elizabeth Pujol. She died in New Orleans before 24 May 1786 when her husband remarried.

Another document, dated 19 August 1766, is an accounting of the inventory of the estate: "Accounting made upon death of Jacques Langliche, to serve for account of Rene Pierre Lafond, to minors, between him and Dame Elisabeth Pugeau, as follows…" The amount of the inventory comes to 9,498 livres, or French pounds. In this document, Pierre is Rene Pierre Lafond.

A later document, from the Spanish Judiciary, involves a case between the Widow Lafond and Manuel Luby (also spelled Louby) who has not paid a debt he owes to Elizabeth. Francisco Daufin (Dauphin), her current and third husband, is representing Elizabeth, known as the Widow Lafond. This case covers the period between April and December 1770. Pierre Lafond must have died sometime between 1767 and 1770 and Francisco must have become Elizabeth's third husband sometime between those dates.

Ysabel/Elizabeth's two daughters, Maria and Antonia, have been given the surname Lafond or Lafon. Maria is said to have been born about 1758 – she is twenty-six in 1784 during the Pensacola census. Antonia is said to have been born about 1768 – a ten year gap. More research into the sacramental records of the St. Louis Cathedral in New Orleans might reveal whether the two girls were actually the daughters of Pierre LaFond.

On 7 November 1770 a document from the Spanish Judicary, involving the sale of real property, named "Francisco Dauphin, called (dit) Dorado, a the representative of his wife Elizabeta Pigeol," who was selling a property on St. Ann Street to Juan Durant. It notes that she was the widow of the deceased Lafond, resident of Mobile. So possibly Pierre Lafond and Elizabeth Pigeol, his wife, lived in Mobile, Alabama. So many unknowns.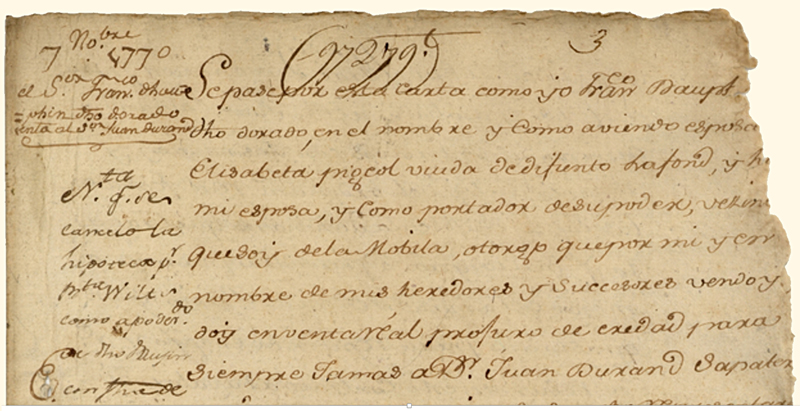 Document mentioning Elisabeta Pigeol, widow of the deceased [Pierre] Lafond in 1770



We know that Francisco Dauphin and his wife, Ysabel Pichol, lived in Pensacola, but we don't know when they died. Ysabel was not in the 1820 census, but Francisco was. We also don't know where they were buried. St. Michael Cemetery was the only cemetery in Pensacola at the times they might have died; it was in use by the middle to later 1700s, so they may be buried there in unmarked graves.

Francisco and Ysabel had four children: Maria, born about 1769, Santiago, born about 1770, Francisco, born about 1774 and Francesca, born about 1777. Francesca was the second wife of Dr. Eugenio Antonio Sierra, and their daughter, Isabella Eugenia Sierra, married Dr. John Brosnaham.

Finally, there is the matter of the prayer book, a page of which was copied and sent to me by a descendant. The prayer book, dated 1767, is dedicated to Madame La Dauphine. The term "Madame La Dauphine" refers to the wife of the heir to the French throne and not to our Ysabel Dauphin. It is likely that the dedication was to Maria Josepha of Saxony who was the wife of the heir to the French throne and was known at the time as Madame La Dauphine. She died in March 1767. Her her son, the future Louis XVl, married Marie Antoinette. Where the prayer book was found and where it is now is unknown.

So, was Ysabel a Spaniard, was she born in the Canary Islands? Or was she French and born somewhere else? We have no proof of her birth. In the document involving the tutors (guardians) to the Langliche minors, it is noted that Pierre Lafond renounced the position of tutor because he left the country. That would have been about 1766-67. Did Pierre and Elizabeth go to France? Did she get the prayer book there? Was the prayer book something that could have been purchased in Louisiana? All these documents, plus the prayer book, leave us with some unanswered questions as well as clues for further research.


Sources:
Spanish Censuses of Pensacola, 1784-1820: a Genealogical Guide to Spanish Pensacola, by William S. Coker and G. Douglas Inglis, Perdido Bay Press, 1980, p.34: Ysabel Pichol, 60, wife of Francisco Dauphin.

Louisiana Colonial Documents Digitization Project, Louisiana Historical Center, http://www.lacolonialdocs.org/
Digitized documents of the French Superior Council and the Spanish Judiciary, New Orleans, Province of Louisiana:


http://www.lacolonialdocs.org/document/11786
August 19, 1766, French Superior Council document regarding the Succession (estate) of Jacques Langliche, account of inventory.

http://www.lacolonialdocs.org/document/11802
November 30 1766, French Superior Council document regarding the Succession (estate) of Jacques Langliche.

http://www.lacolonialdocs.org/document/12220
June 27, 1767, French Superior Court document regarding Elizabeth Pugeau, widow of Jacques Langliche/Langtiche; her current husband Pierre Lafond, former tutor to Elizabeth and Jacques' children; & Sieur Armond, current tutor. Marriage date of Jacques Langliche/Langtiche and Elizabeth Pugeau is given as 2 Nov 1758.

http://www.lacolonialdocs.org/document/13958
November 7 1770, Spanish Judiciary document regarding the sale of property by Elisabeta Pigeol with her husband, Francisco Dauphin, representing her.

Old Families of Louisiana, by Stanley Clisby Arthur, editor and compiler, New Orleans, LA, Harmanson, 1931, p.232: marriage of Suzanne Langliche, daughter of Jacques Langliche and Elizabeth Pujol.

Richardson, Cynthia Brosnahan, Research papers, copies sent to the author by Cynthia's daughter, May 2007.

Sacramental Records of the Roman Catholic Church of the Archdiocese of New Orleans, Vol. 1, 1718-1750, Rev. Monsignor Earl C. Woods, editor, New Orleans, Archdiocese of New Orleans, 1987, p.149: baptism of Jacques Langlise.



Related links:
Dauphin family prayer book
Dauphin family, Pensacola, Florida
Dr. Eugenio A. Sierra family, Pensacola, Florida



---