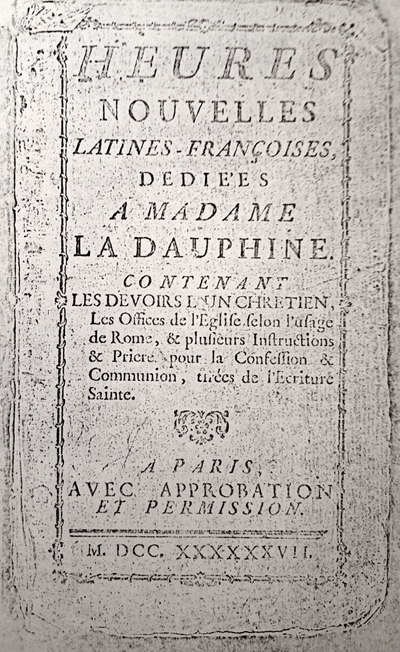 Prayer book of Ysabel Pichol Dauphin


The Catholic prayer book, belonging to Ysabel Pichol Dauphin, was dated 1767, written in Latin and French and dedicated to Madame La Dauphine, the wife of the heir to the French throne.


New Hours
Latin ? French
Dedicated to Madame La Dauphine
Containing
The Duties of a Christian, The Offices of the Church according to Roman usage, and several Instructions and Prayers for Confession and Communion, taken from the Holy Scriptures.

Paris
With Approval (consent) and Permission (of the Church).
1767


The photocopy of the page from the prayer book includes a 2d page with the information below.
I read by order of Monseigneur the Chancelier, the New Hours - Latin-French, dedicated to Madame la Dauphine, etc. at the Sarbonne, the 26 January. De Marcilly.

To Madame La Dauphine,
Madame,
The virtues that you exhibit burst from the Lillies, which reunite with the greatness of your birth makes you the most accomplished princess in the Universe, and the most worth success to the most flourishing crown. It is, Madame, this incomparable piety that you practice with the Queen, true imitation of the actions of the greatest Saints, who put new life in my confidence, and makes me hope that you condescent to look at with an favorable eye this little work and convince you of the zeal and of the profound profession of allegence with which I am,
Madame
Your most obedient servant,
A.M.