At some point Dr. Sierra married Maria Josefa Calder and they had a daughter, Maria Gertrudis. In 1797 Maria Josefa became very ill. Dr. Ruby was called in to treat her and he moved her to a place more convenient to him.Dr. Sierra was insulted and attacked Dr. Ruby with a stick, yelling curses. Dr. Sierra was sent back to Ft. Marks. Eugenio and Maria Josefa separated and she died not long after.6

Not long after this Eugenio married Francesca Dauphin, the Pensacola born daughter of Francisco Dauphin and his wife Ysabel Pichol.7 Francesca, born about 1777, was the youngest of their four children.8 There is no record of their marriage but they were likely married in Pensacola. Eulalie, their first child, was born about 1798, and Isabella Eugenia was born 6 Mar 1799 in St. Marks – this according to the inscription on her tombstone.

By 1805, when the family returned to Pensacola, two more children had been born: Irene Marie, born about 1802 and Joseph, born about 1804. It wasn't until about 1816 that their last child, Stephen, was born.9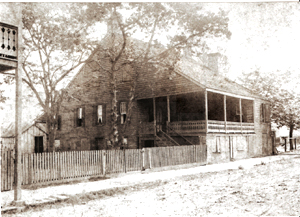 While working in St. Marks, Dr. Sierra was busy buying property in Pensacola. When they returned, in 1805, the family moved into one or more of these properties on Zarragossa Street.10 In 1813, Dr. Sierra purchased a large house that was for sale by the Spanish government. It was on Intendencia Street, Lot 169, and had formerly been the Intendant's quarters. This house became the family home. It was here he set up his medical practice and where he installed a guillotine, from France, which he used for amputations - much cleaner and safer than a saw.

Gertrudis, Dr. Sierra's eldest child, married Alex Lesassier. She took her father to court, a case concerning her mother's estate and dowry rights. This so angered her father that he disowned her. Gertrudis then left with her husband for Havana, Cuba, where her husband died.11

Irene married Pitcairn Morrison, a U.S. Army officer, in 1823. Isabella married Dr. John Brosnaham, another Pensacola doctor, in 1828. Joseph married Joaquina de la Rua in 1829. The month before Joseph married, Eulalie married Joseph Cadolf (or Cadole). She married against her father's wishes; but before her marriage, she had "gravely offended" her father because she had "censured" him when he spoke to her of her "infamous behavior" prior to her marriage. In his will he noted that she was "unworthy of being my daughter."12

Stephen, the youngest child, died in 1853 and was buried in St. Michael's Cemetery. He was unmarried.

Francesca died in 1833 when she was only fifty-six. Dr. Sierra lived until 1849. He had written his will in 1847, apppointing Dr. John Brosnaham and his son Joseph as executors. He left his estate to four of his children, Irina Morrison, Isabella Brosnaham, Joseph and Estevan. Gertrudis and Eulalie were disinherited.

Dr. Eugenio Sierra and his wife, Francesca, are buried in St. Michael's Cemetery in Pensacola in the Brosnaham/Sierra Lot.


Related links:
Descent report for Eugenio A. Sierra with sources and index
Baptismal certificate: Eugenio Antonio Sierra
Sierra family home on Intendencia Street
Will: Eugenio A. Sierra
Gravestones: Eugenio A. Sierra and Francesca Dauphin
Dr. John Brosnaham / Brosnahan, husband of Isabella Eugenia Sierra
---
Record of baptism: Eugenio Antonio Sierra, 1760, "Certificado de Partida de Bautismo for Eugenio Antonio Sierra." Parish Church: Nuestra Senora de La Asuncion, city of Valero, Diocesis of Salamanca, Province of Salamanca, Spain. Book 3, Folio 47 Vlto., no. 14. Copy of certificate and translation provided by descendant Viola Upchurch in 2014.

At the beginning of his will, Dr. Eugenio Sierra noted the place of his birth as "Varelo [sic], Bishopric of La Mancha and Province of Old Castile (Castilla la Vieja) and that he is the legitimate son of Don Manuel Sierra and of Dona Teresa Perez."
Will of Eugenio Antonio Sierra, 9 July 1847, Pensacola, Escambia County. Original will was in Will Book 2 p.104. FHL MF 941009, Will Books 1832-1870, p.148-150.

In her book "Sierra," by Leora M. Sutton, she says that Dr. Sierra went to the University of Cadiz. This university was founded in 1979. The Faculty of Medicine, however, traces its founding to the Royal Naval College of Surgery in 1748 - the first in Europe to combine medicine and surgery in a single school. If Eugenio did go to Cadiz to study medicine, it was probably to this first institution.

According to various sources, tradition says that Dr. Sierra came with Bernardo de Galvez when his forces captured Pensacola in 1781. Other sources says that he arrived in Pensacola in 1785. No proof yet that Dr. Sierra came with Galvez, but he was in Pensacola in 1785.

Much of my information on Dr. Sierra comes from the following sources:

Sutton, Leora M. Sierra, undated and privately printed manuscript.

Coker, William S. and G. Douglas Inglis. Spanish Censuses of Pensacola, 1784-1820: a Genealogical Guide to Spanish Pensacola. Pensacola: Perdido Bay Press, 1980.

Holmes, Jack D.L. Pensacola Settlers, 1781-1821. Pensacola, Florida, Pensacola Historical Restoration and Preservation Commission, 1970.



During the American War for Independence, the Spanish supported and aided the American colonies with Spain hoping to recover territory lost to the British – Florida mostly. In 1779 Spain declared war on Great Britain, pushed them out of the Mississippi Valley, defeating them in Baton Rouge and Natchez, and taking Mobile. In 1781 Galvez and his forces captured Pensacola. In 1783, by the Peace of Paris Treaty, Spain regained East and West Florida from the British. So by 1785, when Dr. Sierra arrived in Pensacola, there were still a great deal of military forces.

Gianelloni, Elizabeth Becker, Notarial Acts of Estevan De Quinones, 1785-1786, c.1966. Lousiana Ancestry Series, Book 2, pp.61-65 (from Notarial Book IV, 493. Dn Eujenio de Sierra, chief medical practitioner of the Royal Hospital of Pensacola, age 22, was named as one of those who gave statements in the criminal proceedings against Salvador Sanchez, age 20, soldier attached to the Eighth Co. of the Second Battalion, Infantry Regiment of Louisiana, accused of having killed another in his company. Eugenio signed his name Eujenio Sierra.

In his will, Dr. Sierra states that he was first married to Maria Josefa Caldez and that they had had one child, Gertrudis, who married Alex Lessassier, who died in Havana.

Francisco Dauphin, Francesca's father, had been in Pensacola for some time. In the 1784 census of Pensacola, Francesca is eight years old and her brother Francisco was ten. They were both born in Pensacola, so the family had been there since at least 1774. Francisco was born in France, according to the 1820 census and was ninety-one at that time. According to researcher and descendant Cynthia Brosnahan Richardson, Ysabel Pichol (or Nichol) was born in the Canary Islands about 1724.

In the 1784 census, Francesca has one sister, Maria, 15, and one brother, Francisco, 10. In the 1820 census, Francesca's father, Francisco, 91 and a widower, is living at the Sierra home. Also living there is Santiago Dauphin, 50, another brother who was not in the 1784 census. According to Leora M. Sutton, they had two half-sisters: Maria LaFond Commyns and Antonia LaFond Hernandez.

In the 1820 census there is a 7-year-old son, Juan, in the family. Nothing more is known about him and he is not in his father's will.

Now known as Zaragoza Street.

Not a lot is known about Gertrudis. She did marry Alex and they left for Havana after she had taken her father to court. She was disinherited but her father left her portrait to his son Joseph. Joseph, in turn, kept in touch with Gertrudis and in later years deeded her the cottage on Lot 22 on Zaragossa Street. Where and when she died is unknown.

In his will, Eugenio expresses his anger over Eulalia's behavior towards him and the fact that she married against his wishes. He left Eulalia and Gertrudis two reals each, a minimum which Spanish law apparently required.