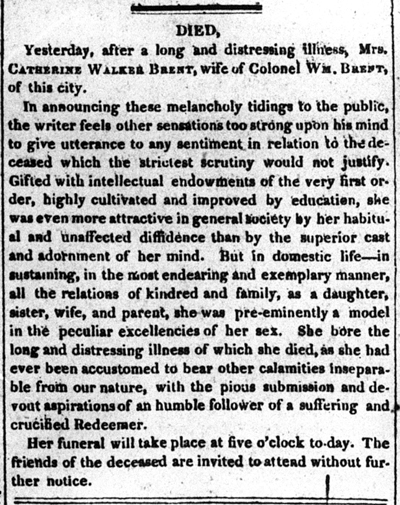 Catherine Walker Johnson was the first wife of Col. William Brent of Washington D.C., who served as Clerk of the Circuit Court there for many years and who served temporarily as President's Jefferson's secretary. Catherine's father was Thomas Johnson Jr., the first postmaster in Washington in 1795. He died the same year.

Her obituary gives little useful information - nothing about her parents - and does not mention her maiden name, Johnson. She died July 1st and was buried the next day. She was a sister, according to the obituary, so she had at least one sibling. She went through a long illness, but what that might have been is not known. She and William had six children before she died - five sons and one daughter. The daughter, Emily Catherine, was only two when her mother died. Her father remarried three years later to Elizabeth Neale. William and Elizabeth had six children, three boys and three girls.

Catherine was said to have been buried at Brentwood, the home of Robert Brent, her husband William Brent's brother and the first mayor of Washington D.C. Brentwood Manor stood near Florida Avenue N.E. and 6th Street N.E., near present day Gallaudet University. Vandalism at the property, about 1915, resulted in Catherine's remains, as well as those of Robert Brent and his dauther, Eleanor Brent Pearson, and possibly others, being reinterred at St. John the Evangelist Cemetery in Forest Glen Maryland where many Brents and Carrolls are buried, including her husband, William Brent.

Catherine's father's ancestry is unknown and although he has been said to be the son ofThomas Johnson, governor of Maryland, he was not. Governor Thomas Johnson was one of the three commissioners of the District of Columbia, helping to plan the city of Washington. A Thomas Johnson Jr. was the clerk for the commission. Whether that was Catherine's father is not known. Gov. Thomas Johnson married his wife Ann Jennings in 1766 and their first son was Thomas Jennings Johnson. His death is supposedly after 1800. The Johnson's first born child would have been born about 1767 and he might have married by 1787. Catherine was born around 1786, supposedly, and she married William Brent in 1805. So age-wise, she could possibly be a grandchild of the governor and his wife. However, and perhaps more importantly, the Brent family was Catholic and the odds are very good that Catherine would have been Catholic also. Her ancestry at the moment remains a mystery.

.
Related links:
William Brent, biographical sketch
Notice of marriage for William Brent and Catherine Walker Johnson, 1805
Col. William Brent, notice of death, 1848
Gravestone of Catherine Walker Johnson, d.1822, Forest Glen, Maryland
Gravestone of William and his second wife, Elizabeth Neale, Forest Glen, Maryland
St. John the Evangelist Cemetery, Forest Glen, Maryland, also known as the Carroll Chapel Cemetery
Robert and Ann Carroll Brent, parents of William Brent