Margarita Silvestre Brosnaham, b. ca. 1818

Margareta or Margarita S. Brosnaham was born 31 December 1818 in Pensacola, Florida, the first child of Dr. John Brosnaham and Maria Josefa Martinez who were married in Pensacola in 1816. Margarita is listed in the Spanish Census of Pensacola taken in 1820. She is listed as the daughter of D. Juan Bronnaham, age 1, native of Pensacola. According to Virginia Brosnaham's notes, there was a will written in Pensacola 12 May 1823 by Juan Brosnaham in which he names his children, Margarita Silvestre, Clotilda Santiago, and Angelina Petrona. Margareta was six when she died 7 July 1825.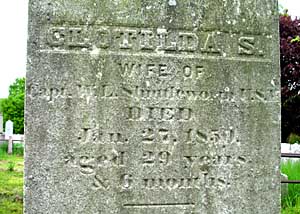 The full inscription of her gravestone includes her two children plus a short verse.


Clotilda Santiago Brosnaham, 1820-1850

Clotilda Santiago Brosnaham was born 25 July 1820 in Pensacola. On 6 July 1843, she married William Louis Shuttleworth, a Lieutenant in the Marine Corps. Their oldest child, John George, was born in 1844. Clotilda bore two more children, Mary, in 1847, who died as an infant, and William Rodman in 1849. Clotilda died from consumption in January 1850 shortly after William Rodman was born in November 1849. He lived two months longer than his mother, dying in March. Clotilda, Mary and William Rodman were buried in the Catskill Village Cemetery, now called the Thompson Street Cemetery.

In Virginia Brosnaham's notes, in the files at the Pensacola Historical Society, she notes that "I have in my possession a prayer book with the name Clotilda S. Brosnaham, and on the fly leaf this inscription:

Clotilda S. Brosnaham
Presented by her
affectionate grandfather
Catskill Dec. 25th, 1827.

More on Clotilda Brosnaham Shuttleworth's death


Angelina Petrona Brosnaham, b. ca. 1823

Angelina Petrona Brosnaham was born 18 January 1823, the third child of Dr. John Brosnaham and Maria Josefa Martinez. Angelina was one year old when she died 16 June 1824.


---

Photograph of gravestone taken by the author, May 2008.

Virginia Brosnaham, whose notes were referred to above, was most likely Virginia Trotter, 1902-1982, who married John A. Brosnaham, 1900-1974, son of Dr. John A. Brosnaham, 1830-1905, and his second wife, Sallie W. Moseley, 1865-1913. Sallie died not long after, in 1913. Their son, John A. was later living in North Carolina and Virginia.

Information about the three daughters' birth and death dates comes from the transcription of a 28 April 1934 article in the Pensacola Journal that was sent to me by a descendant.
---