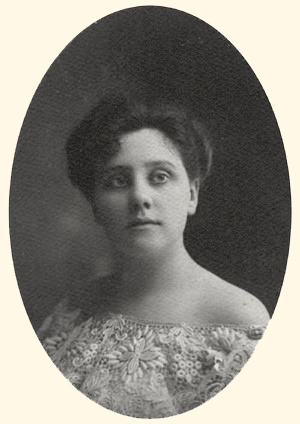 Cora Brent
Cora Emily Brent was born 27 December 1886 in Pensacola. She and her twin, George Shuttleworth Brent, were the 8th and 9th children born to Francis Celestino and Mary Ella Shuttleworth Brent.

Like her sisters, who all went away to boarding school, Cora went to the Convent of the Sacred Heart in Manhattan, located at that time on 54th St. and Madison Ave. In 1909 Cora was crowned Queen at the annual Mardi Gras festivities in Pensacola. In her court were her sister Genevieve, her brother George, and Alba H. Warren, soon to be her husband.

Cora was married at the Brent family home on La Rua, in Pensacola, on 17 April 1911. Her husband, Alba Houghton Warren, of Worcester, Massachusetts, settled in Pensacola in 1904. He had been hired by Stone & Webster, an electrical engineering consulting company in Massachusetts, to manage of the local utility company in Pensacola.

They moved immediately to Galveston, Texas, where Alba took over as manager for the Galveston Electric Company. In 1918 they moved to El Paso, Texas, and later to Savannah, Houston and Shreveport, Louisiana. After Alba suffered a massive stroke, they returned to Pensacola where Alba died 27 March 1950.