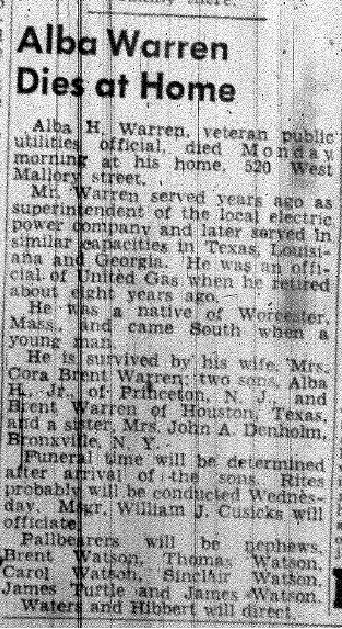 ALBA WARREN DIES AT HOME
Alba H. Warren, veteran public utilities official, died Monday morning at his home, 520 West Mallory street.

Mr. Warren served years ago as superintendent of the local electric power company and later served in similar capacities in Texas, Louisiana and Georgia. He was an official of United Gas when he retired about eight years ago.

He was a native of Worcester, Mass., and came South when a young man.

He is survived by his wife, Mrs. Cora Brent Warren; two sons, Alba H., Jr., of Princeton, N.J., and Brent Warren of Houston, Texas, and a sister, Mrs. John A. Denholm, Bronxville, N.Y.

Funeral time will be determined after arrival of the sons. Rites probably will be conducted Wednesday. Msgr. William J. Cusicke will officiate.

Pallbearers will be nephews Brent Watson, Thomas Watson, Carol [Carroll] Watson, Sinclair Watson, James Turtle and James Watson.

Waters and Hibbert will direct.