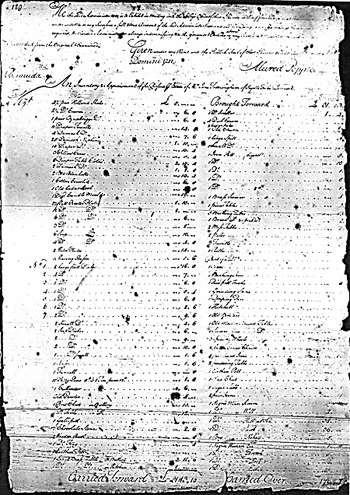 First page of the inventory of the estate.
Jane was the wife of Col. John Trimingham who died in 1735. She and John Trimingham had five children, one of whom was Catherine who married George Brent of Virginia. Jane died intestate and the administration of her estate was given to Nathaniel Butterfield, 23 Nov 1741.
The inventory was attested to by Elizabeth Trimingham, widow. She is mentioned as widow on 7 December 1741. The only Elizabeth that this could be was the wife of her son Paul Trimingham, but Paul did not die until 1742 – or at least probate was commenced in June 1742. Perhaps he died earlier than thought.

Inventory included among many items: four pair Holland sheets, one pair oznabrig* sheets, one dozen candle moulds, one shaving basin, one old churn, one pestle, nine Negro men and women, one square table of black walnut, two porringer, one quilt, one looking glass, one brush, one mustard glass, two large sugar potts, one pair gold shoe buckles, 2 gold rings, one large Bible and one Common Prayer Book.