A Brief History of the Pierce/Peirce Family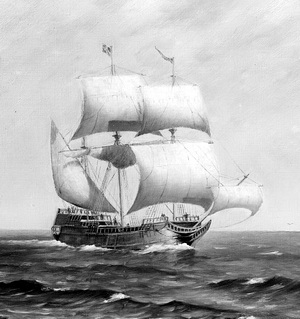 My Peirce/Pierce ancestry goes back to John Pers of Norwich, Norfolk County, England, who came with his wife Elizabeth and four of their children to Watertown, Massachusetts, in 1637. The Peirce name was also spelled Perse, Pearse, Pierce and Pearce. It was probably pronounced purse.1
John Pers was married in April 1610 in Norwich, Norfolk, England to Elizabeth.2 John was born about 1588 and Elizabeth about three years later, in 1591. Their eight children were all born in England, and all their baptisms,except Anthony and Barbre, can be found in the register as well. John, age 49, a weaver, Elizabeth and four of their children, John, Barbre, Elizabeth and Judith, sailed on either the John and Dorothy of Norwich or the Rose of Yarmouth in 1637.3 It is thought that some of their other children, Anthony, Esther, Mary and Robert, all emigrated to New England either before or after their parents.
My line of descent comes down through John Pers' son Anthony, and Anthony's sons Daniel and Joseph. Danielís great great grandson, Jarvis Peirce Sr., married the great great granddaughter of Joseph, Rhoda Darby. Jarvis and Rhoda were fourth cousins. They married in 1794 in Westminster, Massachusetts, moving sometime after 1800 to Rhode Island and then, between 1815 and 1820, to Illinois, first to Springfield and then to Gallatin County in the southern part of the state.


Related Links:
Baptisms of six of the eight children of John & Elizabeth Pers of Norwich, England, and Watertown, Massachusetts
Pierce family, main page, with an image of the marriage record of John and Elizabeth Pers
---
Image of the Mayflower is by artist Charles Austin Needham, created between 1900 and 1920, Detroit Publishing Company. Accessed at the Library of Congress digital collections.
---
Hotten, John Camden, The Original Lists of Lists of Persons of Quality (Baltimore, Genealogical Publishing Co., 1974;), Pg. 290. Traveling to New England on the "John and Dorethy" or on the "Rose:" Aprill the 8th 1637...John Pers of Norwich in Norfolk, 49, and Elizabeth his wife, 36, with 4 children: John, Barbre, Elizabeth and Judeth, and one servant, John Gedney.

Some researchers give Elizabethís surname as Trull. This cannot be from looking at the record of marriage because her last name is illegible, so it must have been from some other research which I have not found.

Information on John Pers and the early Peirce family of Massachusetts comes from the Peirce Genealogy, Being the Record of the Posterity of John Pers, An Early Inhabitant of Watertown, in New England, Who Came From Norwich, Norfolk County, England..., by Frederick Clifton Peirce, Worcester, Press of C. Hamilton, 1880.

Some online researchers have Johnís father as Richard Pearce, of Norwich, Norfolk, England, born about 1540. Richardís wife was Marguerite Coney, born about 1550 in Panington, Gloucester. John had a brother, Richard, born about 1563 in Norwich. This Richard had two sons, Thomas, born 1583, and Richard, born about 1590, both possibly adopted. One site has John as the brother of these two. Thomas had a son, Thomas, who married Elizabeth Cole in 1635 and two of his sons, James and Stephen, were the ancestors of Barbara Pierce Bush and President Franklin Pierce. Some in our family claim a relationship to these two descendants, but if Thomas was an adopted son, there would be no blood relationship. I have not done the research to verify these findings and John Persí parentage, so cannot say what facts are true and am cutting my research off with John Pers and Elizabeth.
Parish registers: St. Edmund's, Norwich, Norfolk, England,1538-1946, FHL MF 993665, item 1, Baptisms 1598-1685, Marriages 1562-1685, Burials 1550-1685, Image 22, marriage record of John Pers and Elizabeth. The page is difficult to read with many smudges but it looks like it reads John Pearse single man and Elizabeth ... single woman were married ... of April. The top of the page gives the date as Anno Domini 1609 and further down on the page, Anno Domini smudge. Directly under this is the Pers marriage in April so it must be 1610. Elizabeth's last name is illegible. Other sources give the marriage date as 1609 but this looks like 1610.
William Andrews was the Master of the John and Dorothy, of Ipswich, and his son, William Andrews, was Master of the Rose, of Yarmouth; both set sail for Massachusetts in 1637. A Register of Persons about to Pass into Forraigne Parts listed the names of the passengers.