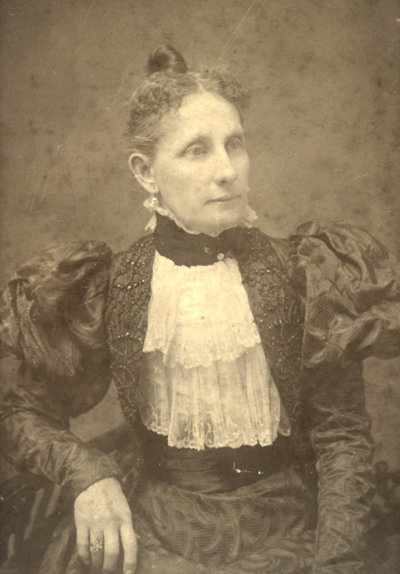 MRS. F.C. BRENT DIED SUNDAY NIGHT
Funeral of Estimate Lady
to Be Held at 10:30 o'clock This Morning

The news of the death of Mrs. F. Brent, which occurred at her home on East Romana street, Sunday night at 11:30 o'clock, was received yesterday with feeling of sorrow and regret by the numberous friends of that estimable lady all over the city.
The deceased lady had been in ill health for a number of years, suffering from an incurable malady whose incroachments could not be resisted and the inevitable result of which was known to be death.
The funeral will be held at 10:30 o'clock this morning at St. Michael's church and the interment will be in St. Michael's cemetery.
The active pall bearers will be as follows: W.A. Blount, Jr., Dr. J. Whiting Hargis, J.M. Muldon, Knowles Hyer, S.M. Cross and A.M. Whaley. The honorary pall bearers will be: W. A. Blount, Geo. W. Wright, Thos. C. Watson, P.K. Yonge, M.H. Sullivan, A.F. Warren, Jno. B. Guttman and W.H. Knowles.
Obituary
Mary Ella Shuttleworth was born in Pensacola, July 17, 1852, and was married to F.C. Brent July 9, 1872. From this union there were born thirteen children, twelve of whom survive. Her father was Col. W. L. Shuttleworth, of the U.S. Marine Corps, and her mother was Mary Amanda Brosnaham, who was the daughter of the late Dr. John and Mrs. Isabella Brosnaham.
Mrs. Brent was a lovable character and her charitable, christian spirit was always a subject of comment among her friends. Wherever she went, with whomever she came in contact, that spirit was ever recognized as the predominating element in her nature, and her friends were numbered only by her acquaintances.
Her husband and children occupied first place in her thoughts and to them she was a model – and ideal wife and mother. No sacrifice was regarded as too great, no self-denial was too severe when their happiness or welfare was at stake. She was considerate as well, of everyone about her and thoughtful always of the comfort and happiness of others, white and colored alike. Among the old family servants, some of whom had known and served her from childhood, she was respected and loved to a degree seldom witnessed.
As her long illness began to draw toward the end, her unusual fortitude was seen in the most beautiful light. Though suffering at times intensely and knowing there was no hope of recovery, she was always cheerful, never complaining and exhibited to the last the same tender solicitude for the happiness of her family that had always characterized her relaltions toward them. She helped plan their Christmas celebration and in those plans did not forget the numberous servants of the household. And then just before the Christmas bells began to ring in the glories of another Natal day, surrounded by her family, at 11:30 o'clock Sunday night, Dec. 24, she peacefully passed to the other side of the river.
RELATED LINKS:
Scan of original obituary of Mary Ella Shuttleworth Brent
Francis Celestino Brent and Mary Ella Shuttleworth
Gravestone of Mary Ella and F.C. Brent
Shuttleworth family
Brosnaham family


---
The obituary appeared on page one of the Pensacola Journal, 26 December 1905, the day of her funeral. Mary Ella, called "Mama Brent" by her grandchildren and great-grandchildren, died of cancer of the jaw. She was buried in the Brent plot in St. Michael's Cemetery in Pensacola.
---