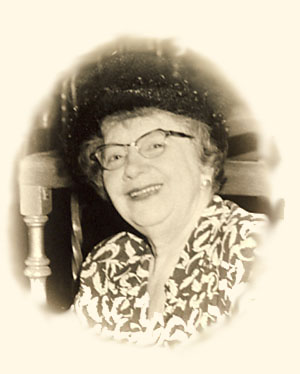 Mary Ella "Mollie" Brent Mare
1879-1964
Mrs. Mare Dies in Local Hospital
Mrs. Mollie Brent Mare of 1109 N. Reus St., died Tuesday afternoon at a local hospital. She was the daughter of the late Francis C., and Mary Ella Brent.
Mrs. Mare was a lifelong resident of Pensacola and was a member of St. Michael's Catholic Church.
Survivors include her widower, John B. Mare of Pensacola; five sisters, Mrs. J.C. Watson, Mrs. W.O. Turtle, and Mrs. Cora B. Warren, all of Pensacola, Mrs. R.S. Manley of Orange, Tex., and Mrs. H.F. Fick of Coronado, Calif.; two brothers, Robert I Brent of Pensacola and William L. Brent of Orange, Tex.; and several nieces and nephews.
Funeral will be at 9 a.m. Thursday at St. Michael's Catholic Church with Msgr. William J. Cusick officiating at Mass.
Pallbearers will be James E. Turtle, James B. Watson, J. Brent Watson, F. Carroll Watson, E. Sinclair Watson, and Thomas C. Watson.
Burial will be in Holy Cross Cemetery with Waters & Hibbert Funeral home directing.
---
This obituary appeared in a Pensacola newspaper. The clipping does not give the name or date of the paper, although, since she died on Tuesday, December 21, it was probably in the Wednesday paper, December 22, 1964.
Mollie Brent Mare was the fourth child born to Francis Celestino Brent and Mary Ella Shuttleworth Brent. She had no children but was a favorite of her nieces and nephews.
The picture above was taken at the Biltmore Hotel in Los Angeles in the early 1950s. Also in the picture taken at the Biltmore were her husband, John B. "Jack" Mare, her niece, Jean Fick Healy, and Jean's daughter Linda.
Pictures and biographical sketch of Mollie Brent
---