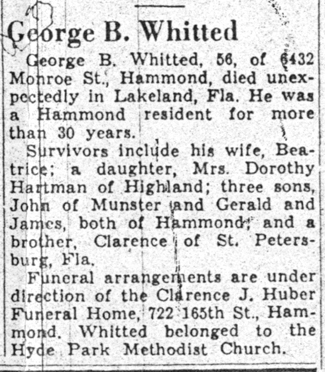 George Bracie Whitted, 1898-1955
George Bracie Whitted was the 5th child of Thomas Austin Whitted and Julia Jeanettie Phillips of St. Petersburg. He was born there on 25 June 1946. Of the eight children of Thomas and Julia, only two would live past thirty, George and his brother Clarence.

George married Beatrice Pepperdine in 1922 in Hillsborough County, Florida. They moved to Hammond, Indiana, where they spent the rest of their lives. George worked for American Steel as a pipe fitter. George and Bea had four children: Dorothy Jean, John Melvin "Jack," Gerald Arthur "Jerry," and James Albert Whitted.

George died in 1955 while on a trip to Florida, in Lakeland, a town in central Florida, not far from St. Petersburg. He was buried at Elmwood Cemetery in Hammond, Indiana.