Parentage of Sarah Gale, Wife of Josiah Peirce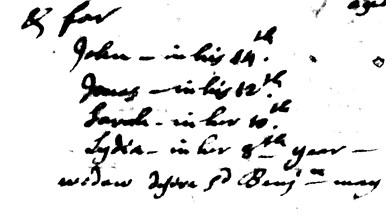 In searching for the parents of Sarah Gale, wife of Josiah Peirce, and finding more than one set of parents for this woman, my ancestress, I felt it necessary to dig further into primary documents. Many of the online genealogies appear to have been copied and pasted from incorrect sources.
Sarah's parents as given in Bond's Genealogies, one of the oldest sources used by many researchers, are Richard Gale, son of Abraham, and his wife Sarah Knights.1 The problem with this is that their daughter Sarah was born 30 Nov 1706. Josiah was born in 1722 and he married Sarah in 1743/44. This would have made this Sarah about thirty-seven when she married and in her sixties when her last child, Jarvis, was born in 1771. Not likely.
An Ancestral File source has a second Sarah born to Richard and Sarah Gale, giving her birth date as 30 November 1726. But Sarah Knights Gale, the mother, had her last child in 1717 and it is difficult to believe that she then had another child nine years later in 1726 and on the exact same month and day as the previous Sarah, born in 1706.2
The other source quoted frequently for Gale ancestors is The Gale Family Records in England and the United States, by George Gale, 1866.3 George Gale has a lot of good information, some of which is unsourced, but he not only makes the mistake of listing Richard Gale's daughter Sarah, born 30 November 1706, as having married Josiah Peirce in 1744, repeating Bond's error, but three pages later he has John and Lydia Gale's daughter, Sarah, as having married Josiah Peirce. Fortunately, this time he gives a source to help sort out the confusion: the probate papers of John and the will of John's son Joshua.
Many online researchers have given her parents as John and Lydia Gale of Watertown, married 1719 in Watertown. This Lydia is often given the surname of Knight or Knights. John, 1687-1734, was the younger brother of Richard Gale, above. John and Lydia were the parents of four children born in Watertown about the right time period and Sarah could have fit easily into this family: Joshua, b.1721, John b. 1722/23, Jonas, b. 1724, Lydia, b. 1728. Sarah was supposed to have been born about 1726 according to her age as given in her death record,4 so this was a more likely scenario.
This turned out to be the correct family for Sarah Gale, with only a couple details being wrong. Despite a marriage date of 1719 (some say on April 23) for John Gale and Lydia in Watertown, no record of this marriage has been found despite a search of many Middlesex vital records. And because no marriage was found, Lydia's maiden name remains unknown. Any researcher who could turn up a church or Bible record would help clarify this.
The births of four children of John and Lydia Gale were found in the Watertown records, but Sarah Gale was not among them. Although many researchers give her date of birth as 30 November 1726 in Watertown, no record has been found. A search of vital records of other Middlesex towns produced no results. Again, a church or Bible record may luckily turn up some day.
John Gale, son of Abraham Gale and Sarah Fiske, does have his birth and death recorded in the Watertown records. He was born 23 April 1687, and died fairly young on 15 Feb 1734/35.5 He died intestate but his probate records, along with those of his son, Joshua, give the information needed to confirm that John and Lydia Gale were Sarah's parents.
One of the papers in John's probate file lists his five minor children by name and by age on 10 May 1736. Sarah is named and in her tenth year, meaning that she was nine on that date.6 Even though Sarah might have been born in Watertown and her birth not recorded, it is also possible that she was born elsewhere, for whatever reason. Thus, the only date we have for her birth at the moment is ca. 1726/27. Lydia Gale is also mentioned several times in the papers as the widow of John. Daniel Benjamin is appointed guardian of all the children.7
Sarah's oldest sibling, Joshua, who was "in the 15th year of his age" on 10 May 1736, never married and, like his father, died young, in October 1747.8 Joshua did leave a will. In it he bequeaths to his sister "Sarah Peirce, wife of Josiah Peirce of sd. Waltham" sixty pounds.9
Joshua's mother, Lydia, is also mentioned in Joshua's probate papers. After her husband's death, she married again, this time to John Sadler of Upton. Their marriage is recorded in both the Watertown and Upton vital records – 28 April 1736 in Watertown.10 Lydia must have then moved to Upton, west of Watertown, in Worcester County, because a daughter Hannah was born to John and Lydia Sadler on 24 Nov 1738 in Upton.11
In the probate papers of Joshua Gale, son of John and Lydia Gale, one of the papers referring to cash paid out, with dates of Dec. 12, 1737, and May 25, 1739, mentions cash paid to Lydia Sadler and cash paid to John Sadler due his wife Lydia from the estate. Joshua also bequeaths in his will sixty pounds to his half-sister Hannah Sadler.12
John, the second son of John and Lydia Gale, is thought to have died fighting in the "French War." Jonas, the third son, married Mary Benjamin, daughter of his guardian. And Lydia Gale, the youngest child, married John Chadwick.13
So, we know that John Gale and Lydia, surname unknown, were married, but we don't know where or when, but most likely about 1720. We know that they had four children born in Watertown as well as a fifth child, Sarah, the second youngest. We do not know the exact date of Sarah's birth nor the place of birth. But we do know that this Sarah Gale was the wife of Josiah Peirce of Watertown.


Related Links
Guardianship of Sarah Gale, daughter of John Gale
Will of Joshua Gale, brother of Sarah Gale
The Gale Family
The Pierce/Peirce Family