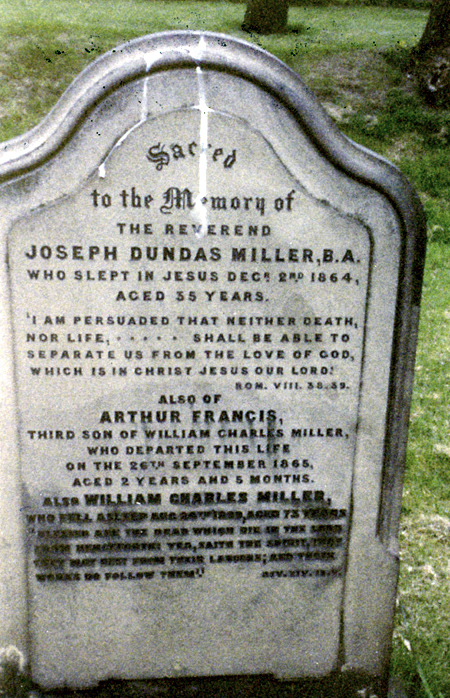 William Charles Miller
1826-1899

Joseph Dundas Miller, Jr.
1829-1864

Arthur Francis Miller
1863-1865



William Charles Miller was born 6 March 1826 in Bahia, Brazil, the first son and third child of Joseph Dundas Miller and Elizabeth Tomlinson. His father, Joseph, was a shipping broker and merchant whose ships traveled to South America and Australia.

The family was living in Brazil as early as 1923 when the first child in the family was born but had returned to Liverpool by 1835 when a younger sister was born. William Charles continued in the family shipping business, Millers & Thompson. William Charles was married to Lucy Swainson and was the father of nine children. His son, Charles Edward Miller is my great grandfather.

William Charles died on 24 August 1899 in Liverpool and is buried in the Liverpool Cemetery, known also as Anfield, in Section 8, grave 221. Buried there also is his son Arthur Francis Miller, who died at the age of two, and his brother Joseph Dundas Miller, Jr., a clergyman who died aged thirty-five. William Charles was seventy-three when he died.


The tombstone reads:

Sacred to the Memory of The Reverend Joseph Dundas Miller, B.A. who slept in Jesus Decr. 2nd 1864, aged 35 years. I am persuaded that neither death, nor life, .... shall be able to separate us from the love of God, which is in Christ Jesus our Lord. Rom. VIII 38.39

Also of Arthur Francis, third son of William Charles Miller, who departed this life on the 26th September 1865, aged 2 years and 5 months.

Also William Charles Miller, who fell asleep Aug. 24th 1839, aged 73 years. "Blessed are the dead which die in the Lord from henceforth: Yea, saith the Spirit that they may rest from their labours; and their works do follow them." Rev. XIV.13.


Anfield Cemetery, originally called Liverpool Cemetery, is in the district of Anfield, Liverpool, Merseyside, England. The cemetery grounds are included in the National Register of Historic Parks and Gardens. The cemetery's first burial was in 1863, so the cemetery was new when Joseph Dundas Miller, Jr., was buried in 1864. The following year, William Charles Miller's young son Arthur was buried and in 1899, William Charles was laid to rest. They are in section 8, grave 221.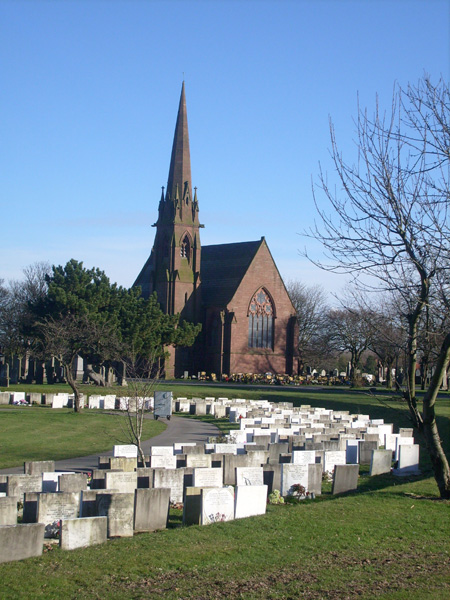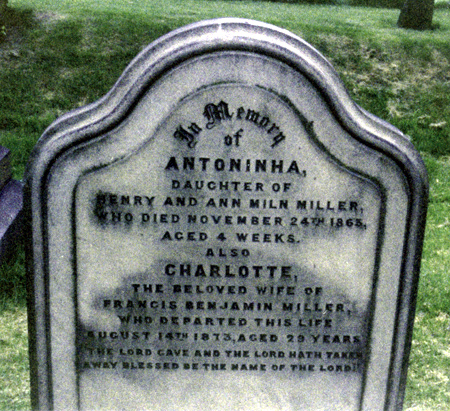 In Memory of Antoninha, Daughter of Henry and Ann Miln Miller, who died November 24th 1863, aged 4 weeks
Also, Charlotte, The Beloved Wife of Francis Benjamin Miller, Who departed this life August 14th 1873, aged 29 years. The Lord gave and the Lord hath taken away Blessed be the name of the Lord.


Charlotte Taylor Miller
1844-1873

Antoninha Miller
1863-1863



Charlotte Elizabeth Taylor Miller was the first wife of Francis Benjamin Miller and the daughter of Thomas Taylor and Mary Manlove. Charlotte and Benjamin had two sons, Francis Spurstow and William Joseph. After her death, Benjamin remarried and moved to Canada.

Antoninha Miller was the oldest child of Henry Miller, and Ann Miln Steele. Henry was the second son of Joseph Dundas Miller and Elizabeth Tomlinson and the brother of William Charles Miller and Francis Benjamin Miller. Henry Miller, a Brazilian shipping merchant, lived with his family in Rio de Janeiro and their descendants are still there.