A large locket was handed down in our family on my mother's side. The locket had belonged to my grandmother's brother, Francis Celestino Brent Jr. – known to us as Uncle Tino. The inscription inside the locket has his name and the city where he lived, Pensacola, Florida. Tino died when he was forty-seven, unmarried, and the locket ended up with one of his sisters.

In the back part of the locket there is a photograph of Mary Ella Shuttleworth Brent, Tino's mother. In the front of the locket, across from the inscription, is a picture – a copy of a painting actually – of a young man in a military uniform. There was much discussion when we first came across this locket about who this man was. At first it was thought it might be Mary Ella's father-in-law, Thomas William Brent.=0>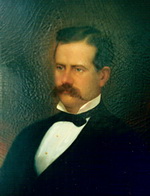 Thomas William Brent was born in 1808 in Washington D.C., the son of Col. William Brent. Thomas was in the United States Navy – a career officer – until resigning his position when the Civil War began and he joined the Confederacy. Thomas had settled in Pensacola, Florida, where he married Merced Gonzalez, a daughter of Celestino Gonzalez, a Pensacola native of Spanish descent.

Thomas William Brent's father, Col. William Brent, was also in the military as a young man in the District of Columbia militia in the early 1800s. Born in Virginia in 1775, he served as Captain of the Cavalry in 1807 in the nation's capitol. He also served as a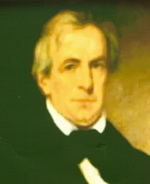 secretary to President Thomas Jefferson for a short time before holding the position of Clerk of the Courts in Washington D.C. for many years.

Over many years I searched the internet to find U.S. Navy uniforms that matched the uniform in the painting, with no luck. Sharing the picture with another relative who had done extensive research on Thomas William Brent led to the conclusion that it was definitely not him and it was not his father either. Finding the uniform of the D.C. militia led to more dead ends.

Finally one day I looked again at the man and this time I really looked at him. He had a dimple in his chin. He had curly hair. He had a nose which pointed down and a handlebar mustache. Both Thomas William Brent, and his father, William Brent, have straight hair. Thomas William has no dimple on his chin. His father might have – difficult to tell. But there was someone else who did. And he had a mustache as well. This was Col. William Louis Shuttleworth, Mary Ella Shuttleworth's father. And -- he had curly hair! And -- he was in the U.S. Marine Corps.

William Louis was born in 1812 in New Jersey. In 1831 he enlisted in the U.S. Navy, serving a ship's carpenter for several years. In 1839 he resigned his position in the Navy and joined the U.S. Marine Corps as a 2d Lieutenant. One of his assignments took him to Pensacola, Florida, where he met and married Clotilda Brosnaham in 1843, the daughter of a local physician, Dr. John Brosnaham, and his wife, Maria Josefa Martinez. They had three children before Clotilda died in 1850. He then married Clotilda's half sister, Amanda Brosnaham, in 1851. They had three children also, before Amanda died in 1858. His oldest child was Mary Ella Shuttleworth, my great grandmother.

Efforts then went into contacting websites which sell uniforms for military reenactments to see if the uniform in the picture would be a Marine uniform from that time period. I got no responses, but did find uniforms of Marine Corps officers of the time period and the uniform is a close match. So I am 99 percent sure that this is William Louis Shuttleworth in his younger years.This would be the only picture we have of him as a young man.