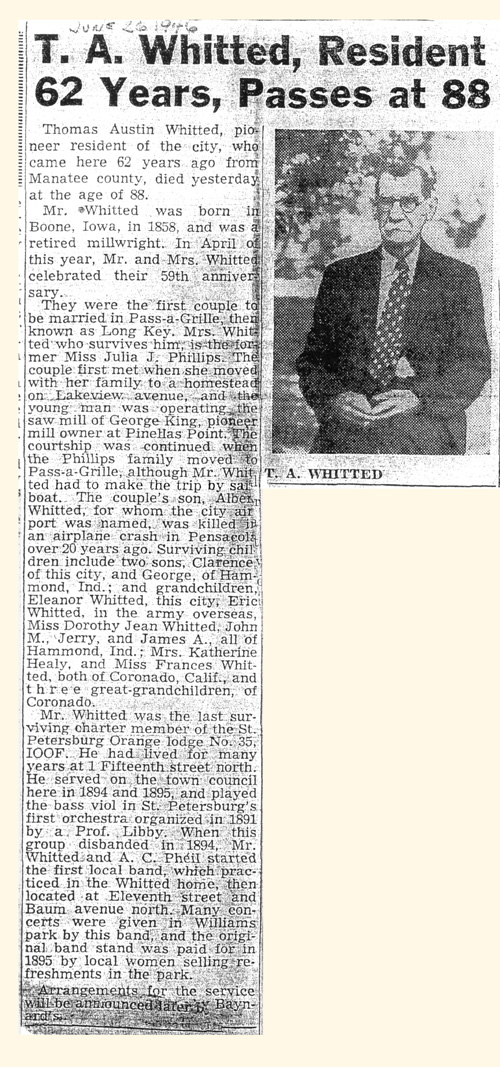 Thomas Austin Whitted, 1858-1946
Thomas Austin Whitted was born 3 April 1858 in Ridgeport, Boone county, Iowa, the son of Elbridge Mabrin Whitted and Carolyn E. Aldridge. He was the sixth of eight children. The family had been in Rockville, Parke County, Indiana, and Greencastle, Putname County, Indiana, before moving to Ridgeport. Thomas was the second child born there. The family left Boone County for Florida in the early 1880s, settling in Oneco, Manatee County, Florida.

Thomas courted Julia Phillips of Pass-a-Grille, then known as Long Key. Julia's father, Zephaniah Phillips, had homesteaded there. Thomas made the trip by boat to Pass-a-Grille every time he went to see her as there was no road or bridge out to the key at that time. They married in 1887 and settled in St. Petersburg where, as Thomas' grandson Eric Whitted put it, "he was a "window and sash man" who put in all the windows and doors in the early homes in the St. Petersburg area. He was a member of the Carpenters Union and played in the St. Petersburg orchestra. He and Julia had eight children. The local airport is named after his son, Albert, who died in a plane crash in 1923.

Thomas died 25 Jun 1946 from heart disease in St. Petersburg; he is buried with Julia in the Greenwood Cemetery in St. Petersburg.