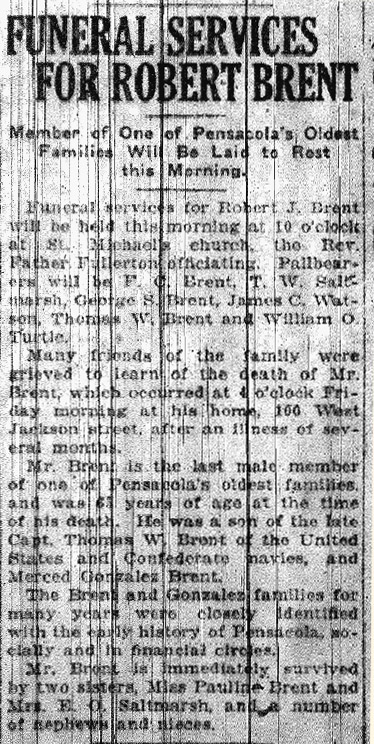 FUNERAL SERVICES FOR ROBERT BRENT

Member of One of Pensacola's Oldest Families Will Be Laid to Rest this Morning.
Funeral services for Robert J. Brent will be held this morning at 10 o'clock at St. Michael's church, the Rev. Father Fullerton officiating. Pallbearers will be F.C. Brent, James C. Watson, Thomas W. Brent and William O. Turtle.
Many friends of the family were grieved to learn of the death of Mr. Brent, which occurred at 4 o'clock Friday morning at his home, 100 West Jackson street, after an illness of several months.
Mr Brent is the last male member of one of Pensacola's oldest families and was 65 years of age at the time of his death. He was a son of the late Capt. Thomas W. Brent of the United States and Confederate navies, and Merced Gonzalez Brent.
The Brent and Gonzalez families for many years were closely identified with the early history of Pensacola, socially and in financial circles.
Mr. Brent is immediately survived by two sisters, Miss Pauline Brent and Mrs. E.O. Saltmarsh, and a number of nephews and nieces.





The obituary appeared in the Pensacola Gazette, Saturday morning, 18 February 1922, p.7.
---

Robert Johnson Brent was born 22 July 1856 in Pensacola, Florida, and died 17 February 1922 in Pensacola. He never married. He was the ninth child of Capt. Thomas William Brent and Merced Gonzalez.

F.C. Brent was Francis Celestino Brent, his nephew; James C. Watson was the husband of his niece, Catherine Merced Brent; Thomas W. Brent was his nephew; and William O. Turtle was the husband of his niece, Genevieve Anna Brent. Mrs. E.O. Saltmarsh was his sister, Margaret Eveline Brent, married to Ernest Olmstead Saltmarsh.

Related Links:
Gravestone of Robert Johnson Brent
Children of Thomas William Brent and Merced Gonzalez


---