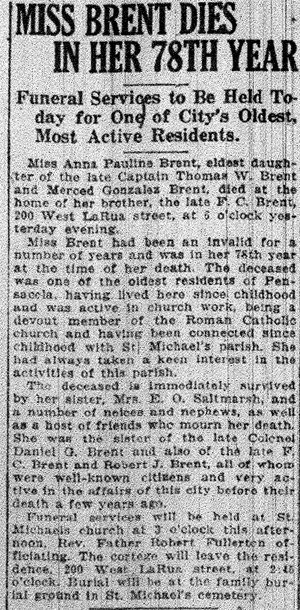 MISS BRENT DIES IN HER 78TH YEAR

Funeral Services to Be Held Today for One of City's Oldest, Most Active Residents
Miss Anna Pauline Brent, eldest daughter of the late Captain Thomas W. Brent and Merced Gonzalez Brent, died at the home of her brother, the late F.C. Brent, 200 West LaRua street, at 6 o'clock yesterday evening.
Miss Brent had been an invalid for a number of years and was in her 78th hear at the time of her death. The deceased was one of the oldest residents of Pensacola, having lived here since childhood and was active in church work, being a devout member of the Roman Catholic church and having been connected since childhood with St. Michael's parish. she had always taken a keen interest in the activities of this parish.
The deceased is immediately survived by her sister, Mrs. E.O. Saltmarsh, and a number of neices[sic] and nephews, as well as a host of friends who mourn her death. She was the sister of the late Colonel Daniel G. Brent and also of the late F.C. Brent and Robert J. Brent, all of whom were well-known citizens and very active in the affairs of this city before their death a few years ago.
Funeral services will be held at St. Michaels church at 3 o'clock this afternoon. Rev. Father Robert Fullerton officiating. The cortege will leave the residence, 200 West LaRua street at 2:45 o'clock. Burial will be at the family bruial ground in St. Michael's cemetery.



The obituary appeared in the Pensacola Journal, Friday morning, 17 November 1922, p.2.