Munroe Tavern, Lexington, Massachusetts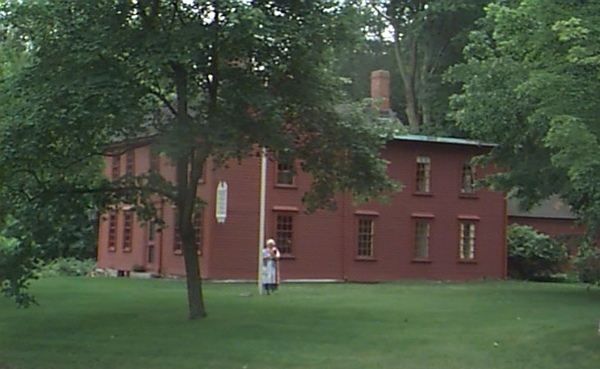 The Munroe Tavern, a landmark in American history, sits on land that once belonged to John Comee and his wife, Martha Munroe, daughter of the first William Munroe, one of the Scottish prisoners shipped to Massachusetts after the Battle of Worcester in the English Civil War.
In 1697 Ebenezer Nutting, owner of the property, sold Isaac Johnson twenty acres which included a small house and a shop. Two years later, Johnson sold land and a small dwelling to John Comee and his wife Martha. In 1719, John and Martha conveyed to their son, David, thirty acres of land "and the south end of the Merriam house , being all the old end, with the cellar, privilege of woodyard, and water from the well, and also land to build an addition to his father's barn. John Comee in a paper in the Essex Registry, describes himself as 'inn keeper;' after he built the addition to the mansion house he probably kept a public house."1
In 1738 David Comee conveyed twenty-six of his thirty acres, including buildings, to John Overing, who, in turn, sold twenty acres and the Merriam House to John Buckman. John died in 1763 and his son, John, married Ruth Stone whose father, Samuel Stone, owned what is known now as the Buckman Tavern. John, who was living in what would later be called the Monroe Tavern, had a potash business with his partner Edmund Munroe, who was boarding with him. Edmund was the oldest son of William and Sarah Munroe and great grandson of William Munroe who arrived in Massachusetts as a Scottish prisoner-of-war in 1652.
In 1770 John Buckman conveyed to Edmund's younger brother William Munroe, a cooper, the "mansion house, barn, workhouse, three-fourths of a potash house with works belonging to it, and 26 acres of land."2 This William Munroe was the first proprietor of the Munroe Tavern. Additions had been made to the original building at that time and the building is essentially the same now as it was then.
William was married to Anna Smith, of Lexington and they had, by 1778, five children, two sons and three daughters. The eldest son, William, was "killed by the upsetting of a stage in Richmond, Virginia."3 The other son and youngest child in the family, Jonas Munroe, would take over the tavern from his father in 1815.
A recollection of William, by a Lexington resident, notes that
"It was his custom in pleasant weather to walk to the old tavern, then in charge of his son Jonas, his residence being about an eight of a mile distant… He was short in stature, thickset, broad-shouldered, with a very short neck. His steps were short and quick for a person of his age. He invariably wore a long-bodied coat and a broad-brimmed hat, with a staff in hand nearly as long as his height, with his hand placed about a third from the top. He was affable, social, with a disposition ever ready to enjoy a joke."3
In 1815, when Jonas, took over the tavern, there were several public houses in town, all of them busy. Before the coming of the railroads, the inns were used by drovers moving cattle and sheep from Vermont, New Hampshire and Canada to the Boston area. The Monroe tavern and farm had a lot of acreage and were able to accomodate large numbers of cattle and sheep on their way to market. It was also the last stopping place before they reached the market and the drovers and their herds would spend two nights while the animals were rested and thus better looking when they were put up for sale. The inn was also used by teams carrying freight to and from Boston. "It was a common occurence to stable a hundred horses per night."4
With the coming of the railroad, the drovers and their animals, the stagecoaches and the freight teams slowly disappeared and the public houses began to close. Jonas kept the tavern until it closed in 1848. It is not known when Jonas died.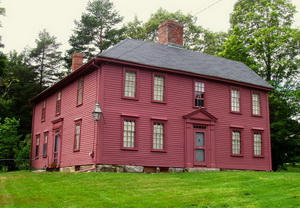 The Munroe Tavern, on both the National and State Registers of Historic Places, was bequeathed to the Lexington Historical Society in 1911 and is open to the public as a museum. In 2011 the Munroe Tavern is undergoing renovation and will reopen as the Munroe Tavern, "Museum of the British Redcoats and Munroe Family Home."5

On the first day of fighting during the American Revolution, the Munroe Tavern was used by the British as their headquarters and field hospital. William Munroe, who was Orderly Sergeant in Captain Parker's Company, was not at home when the British took over his home and tavern. John Raymond, in charge during his absence, was forced to wait on the British. "His last service was to mix a glass of punch for one of the red-coats, after which he essayed to escape through the garden. He was not alert enough, for two soldiers fired, and one of their bullets readily overtook him as he hobbled away."6



Related Links
William Munroe, ca.1625-1718
The Howe Tavern webpage, has numerous old photographs of the Munroe Tavern