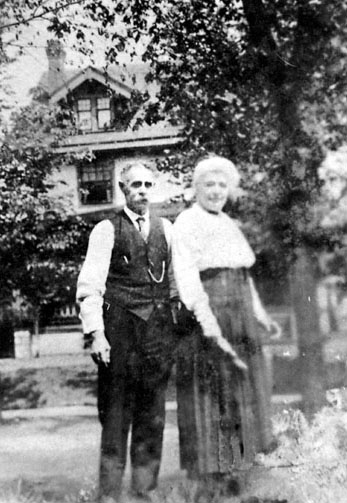 Charles Edward Miller was born 15 July 1856 in Liverpool, Lancaster County, England. His parents were William Charles Miller and Lucy Swainson. In 1875 Charles Edward was appointed by Queen Victoria as Sub Lieutenant, Volunteer Forces, Lancashire Artillery Corps.

Charles Edward married Annie Maria Bayley, January 25, 1882 in Liverpool. At the time of his marriage to Annie Bayley he was working as a mercantile clerk and living in Liverpool. A daughter, Nina, was born in Liverpool before the family emigrated to Birtle, Manitoba, Canada. Four more children, Edward, Constance, Lucy and Ethel, were born while the family lived in Birtle.

In 1890 the family moved to Pittsburgh, Pennsylvania, where Charles' brother-in-law, Neville Bayley, owned two hotels. In 1890 a son, Sidney, was born in Pittsburgh, but he died the following year. Another child, Esther, was born in Pittsburgh, in 1894, the same year Charles received his Naturalization papers.

Sometime around 1895-96, Ethel was badly burned while playing with matches. She spent seven months in a Pittsburgh hospital, after which Charles took her to Liverpool, where she spent another seven months in a hospital. Four months after Charles and Ethel went to Liverpool, the rest of the family joined them. They lived in the London area, later moving to Isleworth, Middlesex County in 1901. Frederick, the last child, was born in London in 1898. In Isleworth, Charles worked selling farm implements for his brother-in-law, Ernest Bentall.
In 1907 Charles and Annie moved to Cheyenne, Wyoming, where Charles was to keep books for a cattle ranch. Connie, Lucy, Esther and Fred went over with them and Ethel and Nina came later. Edward had gone to South Africa about 1901 to fight in the Boer War and he remained in Africa.

In 1918 Charles and Annie moved to Casper, Wyoming, where Charles worked for The Midwest Refining Company, the same place Elwood Breisch, his son-in-law, was working. In 1923 he moved to St. Cloud, Minnesota, where he worked as a desk clerk at the Breen Hotel. The plumbing for the hotel had been done by James Healy, another son-in-law, and Charles worked there to get James' money from the company for the work done. About a year later, Charles and Annie spent a few months with their daughter, Lucy Healy, and her family in Mahtomedia, Minnesota. In 1924 they moved to Missoula, Montana, where their daughter, Connie, and her husband, Roy, were living. In 1927 Annie died in Denver, Colorado, while visiting her daughter, Esther. Charles then stayed with the Healys again for a few months before going to live with his daughter, Connie, in Missoula. He died there in 1928 and was buried in Denver, at the Crown Hill Cemetery, next to Annie.



Related Links
Charles E. Miller and Annie Maria Bayley
Bayley family


---