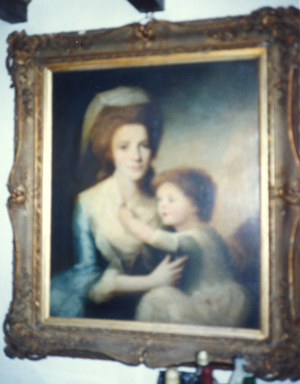 Copy of a painting of Mary Spurstow Miller, 1756-1832, wife of William Miller of Liverpool, holding her child, thought to be Joseph Dundas Miller, 1792-1847.

Joseph Dundas Miller was the eighth of ten children. He became a Brazilian shipping merchant, living for several years with his family in Brazil. He died in 1847 in Funchal, Madeira, Portugal, where he is buried.

The color photograph was taken by Hope Healy Koontz on one of her visits to England to meet distant cousins and research the Miller family. The black and white copy of the painting is also courtesy of Hope Healy Koontz.