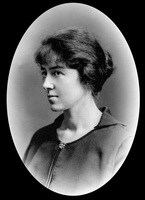 Marion Ethel Malcolm was born just before Christmas at "The Thicket" – the first Malcolm family home. She was seven when her mother died and her father remarried. When young, she was in the Canadian Girls in Training (CGIT), similar to Girl Guides, which was run through local churches. She later became a leader in the group.

Although she worked as a teacher in a one room schoolhouse for a couple years, she went on to train as a registered nurse at the Winnipeg General Hospital, graduating in 1922. Two years later she married Robert McKenzie, 1889-1949.

Robert was born about 1889 in Manitoba, where his parents, John and Catherine Mackenzie, and older siblings had emigrated from Scotland. Bob, as he was known, interrupted his law studies to fight in World War I, joining the Canadian Overseas Expeditionary Forces in 1916 when he was twenty-six. He served as a private in the Canadian Army Medical Corps in a field hospital in France until 1919. He returned to school to finish his law degree and began his practice in Clanwilliam, Manitoba.