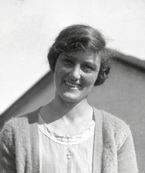 Janet May Malcolm, 1893-1978, who went by May, the oldest of the surviving children of Huntley Malcolm and Janet Inglis Winter, was born in the family home, "The Thicket." She was nineteen years old in 1913 when she married Philip Dearlove in Birtle in the middle of winter.

Philip Nicholson Dearlove, was born, according to his birth registration, in March 1889 in Wisbech, Cambridgeshire, England, to Thomas and Mary Dearlove. Phil emigrated from England in 1906 and moved to Manitoba, settling in the Blenheim area.

May and Phil had two daughters, Janet Mary and Phyllis Millicent. In 1927, when his daughters were still young, Phil left for Kenya to farm with his brother-in-law, Alison Smith. Although he returned to Canada to visit, he went back to Kenya where he died in 1955. He was buried in the churchyard of St. Margaret's Anglican Church in his village of Kipkabus, Kenya, where, many years later, his grandson, David S. Miller, who had never met him, visited his grave.