Death of Ida May Phillips
6 August 1880, Wheeling, West Virginia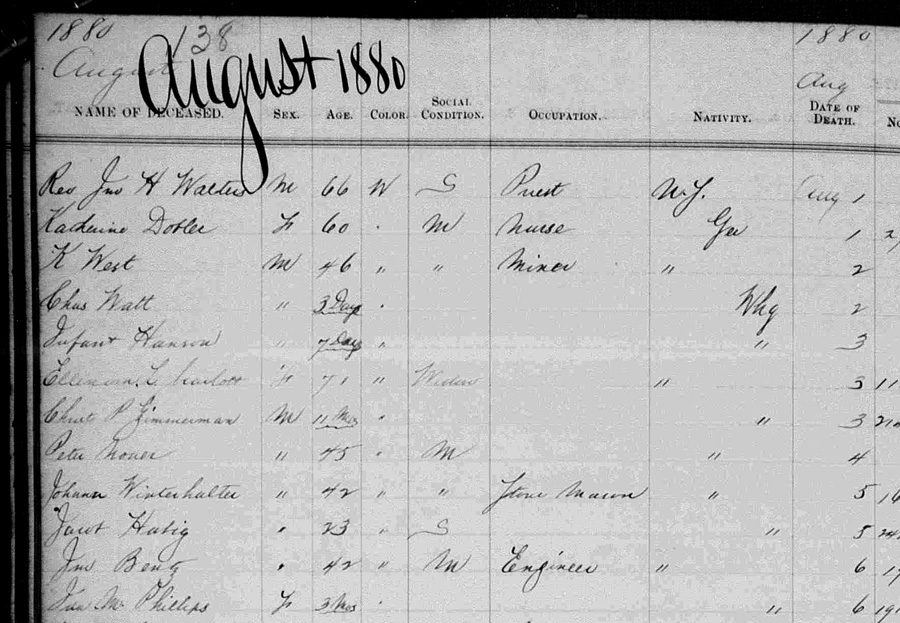 ---
Ida May Phillips was the youngest child of Zephaniah Phillips and Mary E. Pierce. She is listed above at the bottom of the image. She was born in Wheeling, West Virginia, in April 1880 and was just three months old when she died of "marasmus" - an old medical term indicating a wasting away of the body, sort of like malnutrition. Ida May was buried in East Wheeling. Ida May's older sister, Julia Phillips, married Thomas Austin Whitted in 1887 and their first child, born in 1888, was named Ida May Whitted. This would have been a difficult time for Mary, Ida May's mother, as her father, Jarvis Pierce, had died a month earlier, 4 July 1880, in Harrisburg, Illinois.

Image of part of death record used with permission of West Virginia Archives and History:
Records of Death, Ohio County, West Virginia; accessed at website of West Virginia Division of Culture and History: http://www.wvculture.org/vrr/va_dcsearch.aspx, p.122.


Related Links
Zephaniah Phillips
Children of Zephaniah Phillips and Mary E. Pierce
The Phillips Family
Jarvis Pierce Jr.
---