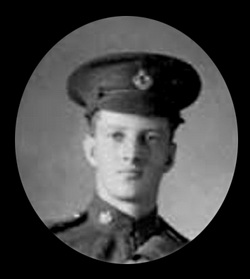 George Lawrence Malcolm, was born in Birtle in "The Thicket" and attended the Manitoba Agricultural College for two years before enlisting in the Royal Canadian Engineers. He spent three years overseas during World War I, serving as a Sapper/Driver with 8th Company 3rd Division of the Canadian Engineers in the Canadian Overseas Expeditionary Force in France. A sapper was a military engineer. He signed up 1n 1915 when he was nineteen.

According to his Attestation Form, a personal information form that volunteers completed during their enlistment, he put down his occupation as "teamster" – a person who drove teams of horses or oxen. His military file referred to his being in a "mounted company" so his work would have involved horses in some way. According to the family, he was demobilized in April 1919 and came home shell-shocked which was probably why he lived alone for so long on the farm on which he homesteaded near Moosomin.

The farm that George bought had belonged to his father's cousin, Neil Malcolm, who had died in the war, and was located in the Qu'Appelle Valley near Tantallon, Saskatchewan, east of Regina and close to the border with Manitoba.

George finally married, late in life, in 1961, to Alberta Grace "Bertie" Donaldson, daughter of Robert Ira Donaldson and Rannie Carrie Ormiston. George died in 1988 and Alberta in 2014. Both are buried in Sunset Memorial Gardens in Moosomin, Saskatchewan.