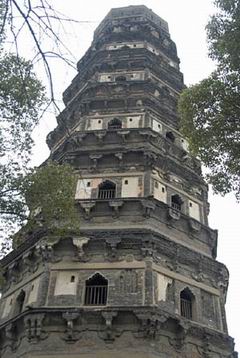 Close-up of leaning pagoda at Tiger Hill

Photo by Gene Field


Suzhou, is in the Yangtze River area, and in contrast to Beijing's dry landscape, the city and countryside is very wet with lots of swampy land, waterways, and canals. Joe referred to Suzhou as the Venice of the East. Suzhou is well known for it's many gardens, the Grand Canal, and Tiger Hill.

We spent a couple hours at Tiger Hill in northwest Suzhou where the dominant feature is the Leaning Pagoda, over one thousand years old. Supposedly, one half was built on solid rock and the other on earth which has since settled.

A king who had his imperial palace built on this hill, died and was buried there. Three days after his burial, a white tiger appeared on the hill, thus the name Tiger Hill. One of the first things we saw as we went over the bridge and started up the hill was the beautiful flowers and rustic fence in the photo at the top. The landscaping was very lush and very natural looking and there were flats and flats of flowers everywhere waiting to be planted or arranged for some upcoming festivity.

Everyone went their separate ways here as we were just told to be back at the bus at a certain time. Besides the pagoda, the area was full of all pavilions, temples, bridges, waterfalls, pathways and beautiful buildings. There were lots of Chinese tourists here as well but it did not seem overcrowded because the grounds were so large and people were very spread out.