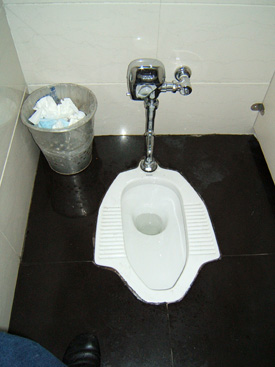 Toilets in China
On the left you can see the traditional toilet in China. In our hotels the toilets were all Western style. But when we were out during the day to factories, gardens, restaurants, etc., many in our group had to decide whether to wait for the one or two "sit-down" toilets or just go with the flow.

To get to the stall you had to climb up one step (maybe so that the whole toilet area could be hosed down) to the stalls. Sometimes the stalls were very clean, there was toilet paper (which, by the way, had to be tossed, once used, into the trash bin so as not to clog the plumbing system) and the floor was dry. Sometimes there was a woman standing inside the room handing out small wads of toilet paper. Sometimes there was a little dispenser and you had to grab the paper before going in. Most of us carried miniature rolls of t.p. just in case.

Also, if you were lucky, there was a place to hang your purse or backpack. Although some toilets we came across left a lot to be desired, this did not seem to stop anyone from enjoying the trip.



Photo by Sheryl Arnold