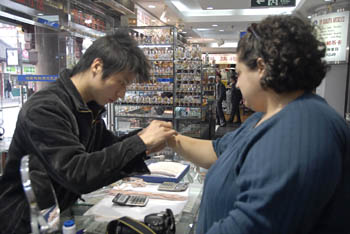 Lucie, regretting her decision not to buy pearls at
the pearl store, bought them later in Chinatown in Shanghai.

Photo by Gene Field

At the end of the park we came to the buses parked next to the Pearl Store. We were given a quick lecture of how pearls are made and what to look for and then let loose in the store to spend money. There were pearls of all colors, necklaces, earrings, loose pearls, and rings. After at least an hour in the Pearl Store, we drove off in the buses to our Peking Duck dinner and then back to the hotel. Instead of crashing into bed, we were told that we had to have our suitcases packed and left outside the door at 10:00 p.m. so they could be picked up and taken ahead of time to the plane. We were given fair warning not to pack what we might need in the morning and told stories about those who had neglected to pay attention. One poor soul forgot to leave out his shoes; another had no pair of pants. So, after carefully packing and setting the suitcases outside the door, we went to bed.