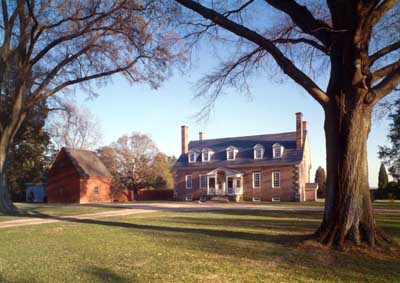 Gunston Hall, home of George Mason IV and Sarah Brent
Sarah Brent was the sister of Thomas William Brent's grandfather, Robert Brent, and the oldest child of George Brent, 1703-1778, and Catherine Trimingham, d.1751.

George Brent, of Woodstock plantation in Stafford County, Virginia, married Catherine Trimingham of Bermuda about 1730. George had relatives in Bermuda since his mother, Susannah Seymour, was also from Bermuda. According to the Gunston Hall website, George and Catherine remained in Bermuda about six years before George took his family back to Woodstock to live. When Catherine died in 1751, Sarah Brent took over the management of the household and continued to do so until her father died in 1778.

George Mason, 1725-1792, was married first to Ann Eilbeck; she died in 1773. George Mason married a second time on 11 April 1780 to Sarah Brent.


Sarah moved to Gunston Hall when she married George Mason and lived there twelve years until George died. After his death, it is thought that she went to live with her sister, Jean Graham, in Dumfries, Virginia. George was buried at Gunston Hall. It is not known where Sarah was buried.

George Mason is considered one of the Founding Fathers. He was a statesman and a delegate from Virginia to the U.S. Constitutional Convention. He wrote the Virginia Declaration of Rights. He convinced the Federalists to add the Bill of Rights to the Constitution, based on the Virginia Bill of Rights.

The Brent and Mason families's friendship went back many years. According to the Gunston Hall website, some land that had originally belonged to the Brents, and had been sold to the Mason family, wound up being sold to George Washington in 1760 to enlarge his Mt. Vernon landholdings.


Ancestors of Sarah Brent Mason and her brothers and sisters
---
The picture of Gunston Hall is from the U.S. Department of the Interior, National Park Service, Historic American Buildings Survey.

Not all dates have been verified. Sources of information include:

Ancestral Records and Portraits: a Compilation from the Archives of Chapter I, the Colonial Dames of America. Baltimore: Genealogical Publishing Co., 1969. 2 vol., p.528.

Brent, Chester Horton. Descendants of Coll Giles Brent, Captain George Brent and Robert Brent, Gentlemen, Immigrants to Maryland and Virginia. Rutland, Vermont: Tuttle Publishing Co., 1946.

French, David M. The Brent Family, The Carroll Families of Colonial Maryland. Alexandria, Virginia: David M. French, 1981.

Gunston Hall Web Page: http://gunstonhall.org


---