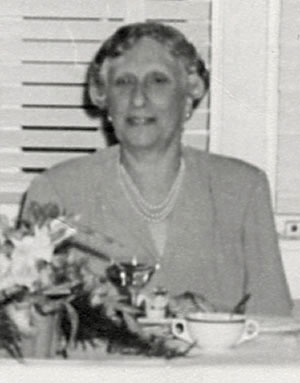 Isabelle Eugenia "Belle" Brent
1873 - 1947
Miss Isabel Eugenia Brent, 74, better known as Miss Belle Brent, died at noon Thursday in Coronado, Cal., where she had been residing for serveral years with her brother-in-law and sister, Capt. and Mrs. Harold S. Fick.
Miss Brent had lived all of her life in Pensacola except for the last few years, and had visited here last month when the Brent family held a reunion.
She is the daughter of the late Mr. and Mrs. F.C. Brent of Pensacola and leaves many relatives here, all well known in social and business life.
The body will be brought to Pensacola for burial but funeral arrangements have not been completed.
Besides Mrs. Fick, other sisters are Mrs. J.C. Watson, Mrs. William O. Turtle, Mrs. Alba Warren and Mrs. J.B. Mare, all of Pensacola, and Mrs. R.S. Manley of Orange, Tex.
Brothers who survive her are Robert I. Brent, Thomas W. Brent, and George S. Brent, all of Pensacola, and William L. Brent of Orange, Tex.
---
This obituary appeared in a Pensacola newspaper shortly after Belle's death on November 20, 1947. Harold S. Fick should read Harold F. Fick. Mrs. Fick was Frances Brent Fick; Mrs. J. C. Watson was Catherine Brent Watson; Mrs. William O. Turtle was Genevieve Brent Turtle; Mrs. Alba Warren was Cora Brent Warren; Mrs. J.B. Mare was Mary Ella "Mollie" Brent Mare; and Mrs. R.S. Manley was Celestine Brent Manley.
Belle Brent was the oldest of thirteen children, born September 1, 1873, in Pensacola where she spent most of her life. The last twenty years of her life she lived with her sister, Frances Fick, and the Fick family in Washington D.C., Norfolk, Virginia, Honolulu, Hawaii, Corpus Christi, Texas, and Coronado, California, where she died.
The picture above was taken at the Brent reunion in Pensacola in 1947 a month or so before she died.
Pictures and biographical sketch of Belle Brent


---