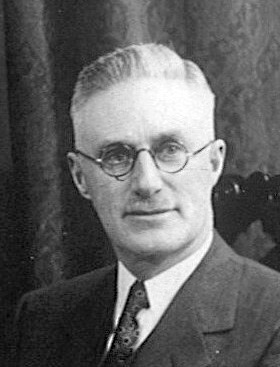 Bernard West Miller
Bernard West Miller was born in the middle of his parents' trip from England to the wilderness of Manitoba in 1880. The family had sailed from Liverpool, England, went through Ontario and headed by train for Winnipeg, Manitoba. The next leg of the journey was by steam boat to Portage La Prairie which was west of Winnipeg. It was there, on June 17th, that Fanny Miller gave birth to her 3d and 4th children - twins - Bernard West and Dorothy Miller. Bernard got the middle name of West because they were heading West at the time. Dorothy only lived a couple months, dying of whooping cough.

Bernard was not a farmer at heart. Despite that, after taking a business course at Winnipeg Business College and various jobs in Winnipeg, Calgary, Brandon and Minnedosa,, he returned to Rose Vale, the family farm in Solsgirth, when his older half brother, William Joseph "Willie" died in 1904. Willie had been running the farm after his father died three years earlier. After the farm sold two years later, Bernard worked as a real estate bookkeeper in Winnipeg and then for a wholesale grocer - Codwell - in the credit department.

Bernard married Marguerite Lilian Pearson 15 June 1909 in Birtle, near Solsgirth. Marguerite, nicknamed Queenie, was born in England to William Pearson and Marguerite Annie Wadsworth in 1890. She lived in the Birtle/Solsgirth area and rode to school with Bernard's younger sisters, Helen and Ruby, who were just a couple years older.


In 1910 he opened a real estate office with a Mr. Downing - Downing and Miller. With the beginning of World War I, Bernard bought a 400 acre farm about ten miles north of Stonewall which was a bit north of Winnipeg. Here he raised grain and potatoes. Once the war ended, he sold the farm and moved with his family to Regina where he once again worked in real estate. Later on he worked in the insurance business in Saskatchewan and Alberta. During World War II he worked for the War-Time Prices Control Board in Vancouver. Following the war he went into the real estate field again as the Property Manager for Ker & Ker in Vancouver until his retirement in 1958.

Marguerite died 10 February 1965 in Vancouver and Bernard died there also on 19 October 1971. They are both buried in Mountain View Cemetery in Vancouver.

Bernard and Marguerite had four children:

Jessie Marguerite Miller, who served as a missionary for the Anglican Church of Canada in Japan and India, retiring in Vancouver where she died in 1974. She is buried in Mountain View Cemetery in Vancouver.

Dorothy West Miller, who was the secretary at Christ Church Cathedral in Vancouver. During World War II she served as secretary with the British Air Commision in Washington, D.C. She died in 2003 and is buried in the Mountain View Cemetery in Vancouver.

Donovan Miller, was the president of the Canadian Fishing Company in Vancouver. During World War II he served in the Royal Canadian Navy. He married Katherine Mary "Kay" Gordon in 1942 and they had four children. Donovan died in 1997 and Kay died in 2009.

Garth Wadsworth Miller, a Promotional Architect with Master Builders Company in Toronto. He served in the Royal Canadian Navy during World War II. He married Frances Mary Gale in1945 and they had three children. Garth died in 2003.
---
The photo of Bernard West Miller from photo of the family, 1935, provided thanks to Jeff Parkinson, a descendant. The biographical information on Bernard West Miller was in the possession of Jeff also and he kindly shared it.


---