Children of John H.R. Bayley and Margaret Morris



John H.R. and Margaret Bayley had six children:

Hamlet Ambrose, the oldest, born in 1836, was a schoolmaster, following in the footsteps of his father and grandfather. He married Esther Ashcroft in 1859 and they had three children, all of whom left for America. After Hamletís wife died, he left for America also.

Laura Fidelia Bayley, the second child, was born in Dudley, Warwickshire in 1840. She was listed as a widow in the 1881 census in Birmingham. In that census, she and her children, Edgar Harry and Gertrude Blanche, born in 1874 and 1876, are listed under the surname Bailey. Lauraís occupation in this census is governess, and in the 1891 census she is a manageress of the White Hart Public House. In 1897 she married Thomas Watts. In the 1901 census they are still together, living at The Bell Inn, Birmingham Rd., Great Barr, in Staffordshire. Laura's mother is living with them. She died in 1909, age 69, in Aston, Warwickshire.

Werner Bayley, the third child, was born in 1847 in Wolverhampton. He was listed in census records as a merchantís clerk and an ironmongersí clerk. He married Elizabeth Sarah Harford of Birmingham in 1875 and they had two children, Eleanor and William. The family lived in Birmingham where Werner died in 1888.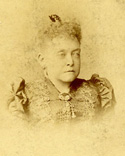 Marion Bayley, the fourth child, was born about 1849 in Wolverhampton. Little is known about Marion. She was two years old when the family was recorded in the 1851 census in Wolverhampton.

The children of Annie Bayley, Marionís great nieces and nephew, did have a picture of her. Their memories of her are fairly vague, but, according to various stories, she may have owned a dress shop, she may have taken Annie under her wing when Annieís mother died, and she may have gone with Annie and Annie's husband Charles Edward Miller when they left for Canada in the early 1880s.

Ada Jane Bayley was the fifth child, born in 1852 in Hanley, Staffordshire. She was a draperís assistant, living in the Birmingham area, where she died in 1884, apparently unmarried.

Pauline Edith Bayley, the last child, was born in 1855, also in Hanley. She was married first to Edward Genevar in Birmingham. Sometime after her husband died in 1884, Pauline married someone whose last name was Cole. She is listed in the 1891 census as Pauline Cole, widow.



The photograph of Marion Bayley was done by Emberson & Sons, London, and was loaned thanks to Hope Healy Koontz.

In his collection of poems, "Harvest Sheaves," John. H.R. Bayley wrote a poem for each of his children except Laura. Several were written in the acrostic style.