Joshua Ashcroft, son of Samuel Ashcroft and Mary Rudd, and Esther Harrison, were married in the Manchester Cathedral in Manchester, at right, Lancashire, England. This was the second marriage for Joshua. His first marriage to Sarah Barber in 1796 ended in 1800 when both Sarah and their child, Mary Sarah, died. Joshua and Esther were married just over six years when Joshua fell from the roof he was working on in Manchester and died. It is not known what happened to Esther after his death.

Joshua was buried at St. James Church, George Street, in Manchester, where his first wife and his daughter were buried. The church and graveyard are no longer there.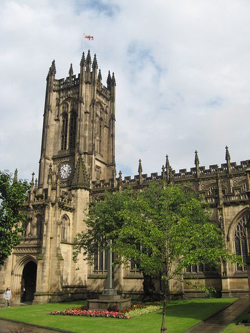 ---
Source: Parish registers, Cathedral Church, Manchester, Lancashire, England, 1573-1946. Marriage record #599, FHL microfilm 2356677. Joshua Ashcroft, slater, and Esther Harrison, both of Manchester, married by Banns 19 May 1802. Joshua signed his name, Esther signed with her mark and John Harrison, witness, signed.

Manchester Cathedral: The cathedral's official name is The Cathedral and Collegiate Church of St Mary, St Denys and St George in Manchester. The construction of the church began in 1215. Photo taken 15 July 2009 by Richard Rogerson, accessed at the Wikimedia Commons web page and is licensed for reuse under the Creative Commons Attribution-ShareAlike 2.0 license.
---