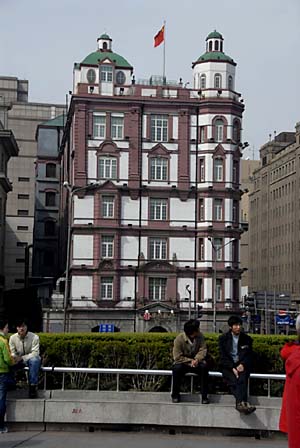 Photo by Gene Field


There is now a walkway, or promenade, along the river, nicely landscaped. When we were there it was full of people walking, enjoying the view, avoiding the souvenir vendors, and taking pictures. We were allowed about an hour to wander around, take pictures and enjoy the view.

In the picture above right, looking towards the Pudong, we saw this Chinese tourist boat In the middle of the Huangpu River, which looked like it was in danger of sinking - it never did, at least not while we were watching it.

The building to the left is one of the many old buildings along the Bund from the 1800s. It can be seen to the left of the Peace Hotel in the picture above left.

When we left the Bund we were told that there was a river cruise at night that went up and down the river by the Bund and by Pudong across the river. Everyone wanted to go because it was supposed to be very beautiful with all the lights at night, so our guides got to work getting tickets for all of us.Then we reboarded the bus and headed for the silk carpet factory.