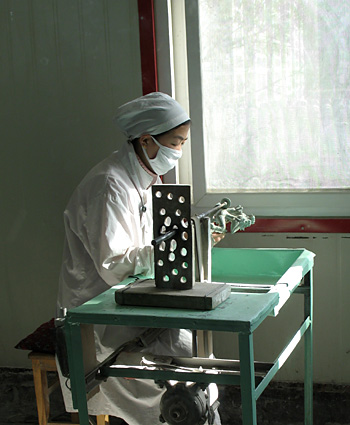 Jade factory worker shaping a piece of jade


Saturday morning we headed out bright and early towards the Ming Tombs, about 31 miles from Beijing. On the way we stopped at the Jade Store/Factory – not on the itinerary but very interesting and, of course, most everyone bought something. We were given a quick course in jade, what to look for, what consitutes quality, what colors are most prized, etc. Then we went in the store. I ended up with jade earrings. Others bought bracelets, rings, and other items.

About an hour later we were headed again for the Ming Tombs. We actually did not see much of the Ming Tombs because we only went to one site that is open to the public, the site at Dingling. This was where the Emperor Zhu Yijuan was buried with his two empresses. Apparently you can go to the underground part where they are buried, but we were not told this or else we did not have time. We had to keep following the guide – five minutes here, ten minutes there, and so on. What we did see seemed to be more of a museum of artifacts from the tomb, gold ingots, jade pieces, gold artifacts, porcelain pieces and so on. There was intricately carved furniture, tapestry, a crown, a statue of the emperor, a throne, as well as intricately painted detail in the ceiling and other parts of the building.